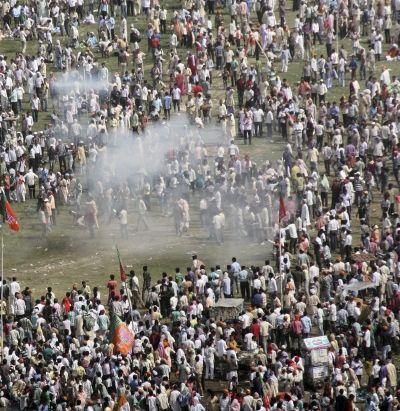 Amid a political uproar over bomb blasts at Narendra Modi's rally venue in Patna, Congress on Monday appeared to suggest that his brand of politics was allegedly providing an opportunity to disruptive elements to engage in such activities.
Congress spokesperson P C Chacko said that while the party condemns such violence like the bomb blasts in Patna at Modi's rally as there is no place for violence in politics, the fact also remains that Modi is engaging in "negative politics" ever since he was named BJP's prime minsterial candidate.
"The prime ministerial candidate of the major political party, ever since his nomination, has been engaged in spreading suspicion and hatred through his utterances..The atmosphere is being vitiated by the negative campaign. Who started it? The basic thing is that the atmosphere has been vitiated", Chacko said.
"Such activities (terrorism) are happening in India....But such elements are getting an opportunity to operate in an atmosphere of distrust...that atmosphere is being knowingly or unknowingly being created by our own people," he said responding to queries whether he was suggesting that Modi's style of functioning is leading to a communal atmosphere in the country under which such incidents are taking place.
To a question on whether he is linking the bomb blasts in Patna to Modi's politics, Chacko said it "may not be directly related to that but one person who is vitiating the atmosphere the maximum is BJP's PM candidate through his campaign of calumny and hatred".
Urging the Centre and state government to take all possible measures to bring the culprits to book, Chacko also apprehended "such acts may be diversionary tactics against the pro-poor agenda and development politics of Congress".
He, however, evaded a direct answer on whether he was suspecting any political conspiracy behind it.
"Investigations are on. Jumping to conclusions, as many people are doing, will not help in this situation", he said, and added "some parties will do any kind of communal polarisation" that will benefit them but do not see the "lurking dangers" behind such politics.
Chacko was evasive when asked whether he believes that bomb blasts in Patna could have been carried out in reaction to communal riots in Muzaffarnagar in Uttar Pradesh as Rahul Gandhi had sometime back said Pakistani intelligence agency ISI was in touch with the riot victims.
"Why should Muzaffarngar be related to what happened in Patna? There was violence perpetrated by anti-national forces both in Muzaffarnagar and Patna. Beyond that, I will not say anything," he said.
Chacko rejected the criticism of Home Minister Sushilkumar Shinde for allegedly not acting effectively on the Patna blasts and said the government and the Home Ministry had acted within hours after the incident and a team of National Investigation Agency was sent there to probe it.
"Government of India has taken every step by engaging senior officials and sending NIA. The Home Minister did his job in a record time. Action was taken by the Home Ministry and central government within two hours," he said dismissing criticism that Shinde was launching a music video when he was required to monitor the central government's action on the issue.
The Congress spokesperson also said he cannot say whether the incident could have been avoided or not but added there should have been sufficient security.
"There is a set procedure of safety in case of senior political leaders visiting anywhere. It is the responsibility of the chief minister to ensure whether that was implemented or not. That is something to be investigated. We do not want to be part of blame game. BJP is blaming the Bihar chief minister. We do not want to get into the blame game," he said.
Chacko said the state government should be more serious and be able to contain the incidents of violence, which is happening in a peaceful state like Bihar.
The Congress spokesperson also referred to it leaders like Indira Gandhi and Rajiv Gandhi falling victim to terrorism.
Image: Smoke rises after a bomb exploded at Patna's Gandhi Maidan where Narendra Modi addressed a massive rally on Sunday
Photograph: Krishna Murari Kishan/Reuters
© Copyright 2021 PTI. All rights reserved. Republication or redistribution of PTI content, including by framing or similar means, is expressly prohibited without the prior written consent.