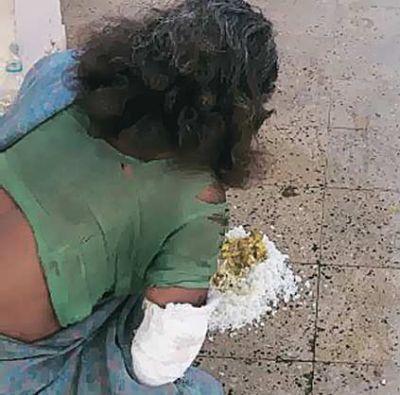 Apathy towards a patient in one of the biggest government hospitals in Jharkhand has left people shocked.
Ranchi Institute of Medical Sciences served food to a patient on the floor after the hospital's kitchen staff claimed that they were all out of plates, reported the Dainik Bhaskar.
Palmati Devi, a patient who had fractured her hand, was caught on CCTV eating her meal of dal, rice and vegetables straight off the floor at the orthopaedic ward of the hospital.
The poor patient was forced to eat off the floor during lunch time when she didn't have her own plate and had asked for one, but was rudely told by kitchen staff who said there were none at the hospital.
Following the shock and outrage, the staff member who served her meal on the floor has been sacked and disposable plates have been commissioned.
NDTV quoted the hospital's director, BL Sherwal as saying: "It's not a common practice but we have started an inquiry and will take action against those who served the food on the floor and then forced her to eat from there."
Image: The woman ate her meal of dal and rice directly off the floor when the hospital staff refused her a plate.