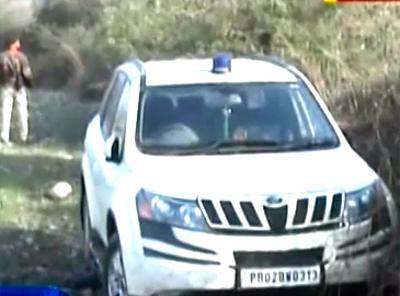 Even as the anti-terror operations continue at the Pathankot Air Force base, the National Investigation Agency has started piecing together the puzzle over how the terrorists managed to sneak into the country and launch the brazen attack.
On Monday, NIA sleuths interrogated Gurdaspur Superintendent of Police Salwinder Singh and his cook, who were abducted last Thursday by the terrorists who went on to attack the air base the following day.
According to media reports, the blue beacon atop Salwinder Singh's Mahindra XUV helped the terrorists get past several police checkposts on Friday. It is suspected that the same lot of terrorists entered the Pathankot airbase because the SUV was found abandoned a little over 500 metres away.
Madan Gopal, Salwinder's cook who was in the officer's car while it was being commandeered by the terrorists, told journalists in Gurdaspur that he had been beaten by Punjab police even after telling them of the events of the night before the attack on the Pathankot airbase.
According to information gleaned from journalists in Gurdaspur, Gopal said he was returning with Salwinder and the officer's friend, Rajesh Verma, from a shrine. It was close to midnight when five men in military uniforms and carrying rifles stopped the vehicle near a village named Kuliyan. The men were standing by another car that seemed to have crashed. It later transpired that the driver of that car had been knifed to death.
Speaking in Punjabi, Gopal told media persons that the men pulled them down and bound and gagged them. Then they were pushed back into the car and forced to kneel while three of the terrorists sat on Singh, Verma and the cook.
Citing an officer, The Indian Express reported that a checkpost with five policemen on the Taragarh road near Kolian village received a message that a police officer in a SUV was making surprise checks. The terrorists had crossed this checkpoint twice earlier. Seeing the blue beacon atop the SP's vehicle, the policemen saluted and let it through.
The SUV then went past the checkpost on Katloh bridge. It travelled another 30 km to reach the toll plaza on the Gurdaspur-Pathankot highway between 11.30 pm and midnight, where it was again waved through because of the blue beacon, the report said.
Gopal and Salwinder were dumped in a forested area around 2am. The attackers took Verma away in the car. Salwinder managed to untie himself and told Gopal that they should get out of the forest. He untied Gopal.
After a walk of nearly two hours, they reached a village from where Salwinder called his superior and told him that the attackers could be terrorists.
Sources claim that the Punjab Police did not pay heed to Salwinder Singh's statements. The police ignoring the evidence led to a delay of almost 15 hours before they realised that something serious was afoot.