His absence will be felt because of his decision taking ability and rapport with armed forces, says Sahil Makkar.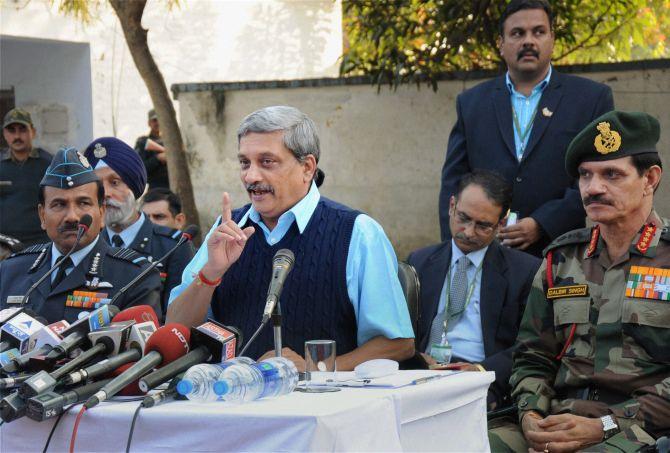 Manohar Parrikar has left a mark after two-and-a-half years with the defence ministry.
His absence would be felt as he has been made the Goa chief minister, for many reasons, including his decision taking ability and rapport with the three armed forces.
His going would be a jolt to the 'Make in India' programme, as it would take the new minister at least a year to understand the nuances and intricacies of this ministry.
Parrikar, initially reluctant to become defence minister, was a strong advocate of production in this country of military equipment and supplies.
He, however, did say they would consider opening areas where we lack technology to 100 per cent foreign direct investment, FDI.
'For Make in India, FDI levels have to be increased to 49 per cent through the automatic route and an even higher percentage can be considered,' Parrikar had said, while announcing the amended Defence Procurement Procedure (DPP) last year in Goa.
He encouraged public sector units in the sector to have ties with private defence majors. And, exhorted the Ordinance Factory Boards to ramp up production and reduce the shortage of ammunition.
Parrikar is also credited with simplifying of industrial licensing rules and on cutting red tape.
He'd craftily handled General Bipin Rawat's controversial appointment as new army chief. General Rawat had superseded Lieutenant General Praveen Bakshi and Lieutenant Gen P M Hariz, both senior to him.
Before that, Parrikar stood his ground during French President Francois Hollande's 2015 visit by not signing the Rafale fighter deal. It is said he negotiated hard with the French before placing an order for 36 jets.
In sum, he ended the policy paralysis of the previous government and chaired meetings of the Defence Acquisition Council to review all procurement projects.
The government has already cleared procurement of Rs 1.5 lakh crore.
The biggest challenge for his successor would be getting clearance for a a similar amount in the near future.
The successor would also need to ensure major Indian defence players invest in the country, as they are still sceptical of getting large orders from the armed forces.
The successor would also be under pressure because of increased terrorist attacks on defence installations and growing presence of Chinese might in the Indian Ocean region.
IMAGE: Then defence minister Manohar Parrikar at the Indian Air Force base in Pathankot after the terrorist attack in January 2016. Photograph: PTI Photo