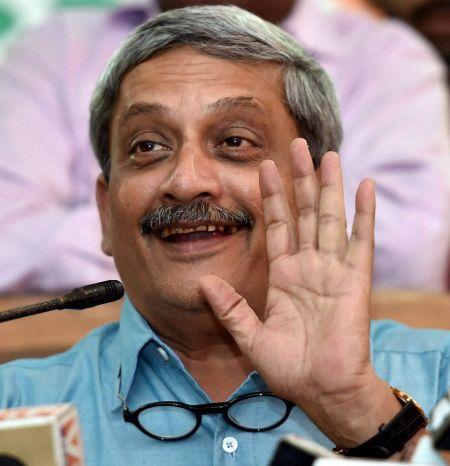 Defence Minister Manohar Parrikar and Samajwadi Party leader Ram Gopal Yadav are and 10 political leaders who were on Thursday elected unopposed to Rajya Sabha from Uttar Pradesh and Uttarakhand.
Of the 10 leaders, nine, including Parrikar, former Goa chief minister who was inducted into Union Cabinet last Sunday, were elected from UP while another from Uttarakhand.
The Samajwadi Party's Ram Gopal Yadav, state minister Azam Khan's wife Tazeen Fatima, Neeraj Shekhar, son of former Prime Minister Chandrashekhar, Ravi Prakash Verma, Javed Ali Khan and Chandrapal Singh Yadav were also among those elected to the Upper House of Parliament from UP.
The Bahujan Samaj Party's Raja Ram and Veer Singh and the Congress party's P L Punia were also elected to Rajya Sabha. As per the party's strength in UP assembly, the ruling SP won six seats, the BSP two, and the Bharatiya Janata Party and the Congress one each.
Congress candidate Punia was supported by the SP. In Uttarakhand, Congress nominee Manorama Sharma Dobariyal was declared elected unopposed from the only vacant Rajya Sabha seat in the state.
The seat fell vacant after BJP Member of Parliament Bhagat Singh Koshiyari.
The ruling Congress has 35 members of Legislative Assembly in the 70-member Uttarakhand assembly and also enjoys the support of seven-member PDF, whereas opposition BJP has 28 legislators.