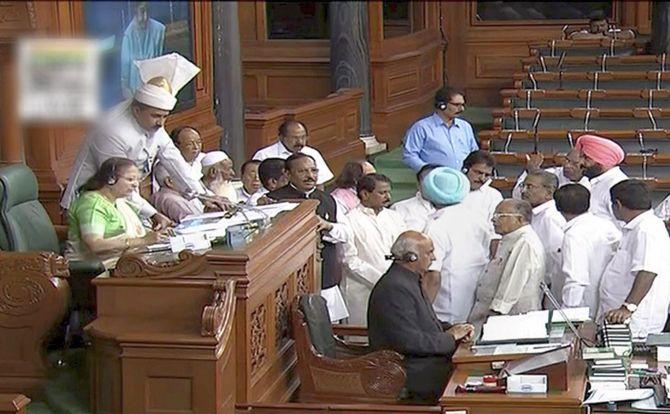 The proceedings in the Lok Sabha were disrupted on Wednesday by angry Congress members who raised anti-government slogans over a range of issues, including revocation of suspension of six of its members, forcing its adjournment for the day.
The House, which saw two adjournments in the afternoon due to the noisy protests, was adjourned for the day around 3.45 pm.
For most part of the day, many Congress members were in the Well raising slogans like "Pradhan Mantri jawab do (PM should reply)", "tanashahi nahin chalegi (end dictatorship)", "jaat ke nam par rajniti band karo (End politics in the name of caste)" and "Hindu, Muslim, Sikh, Isai, aapas me hain bhai-bhai.
On the suspension of six Congress MPs, the members, including K C Venugopal and Ravneet Singh Bittu, also shouted "Speaker saheb, nyay karo (Speaker, do justice). At one point of time, they were also joined by members of Trinamool Congress.
Amidst the day-long slogan-shouting by Congress and other opposition members with many of them in the Well, the House took up the Question Hour, proceeded partially with the Zero Hour and then debated and passed the Indian Institutes of Information Technology (Amendment) Bill, 2017.
As soon as the bill was passed in the afternoon, Minister of State for Finance Arjun Ram Meghwal initiated a discussion on the Companies (Amendment) Bill 2016, which was listed in the day's agenda. This bill has been listed for discussion since last week.
As the din continued, Deputy Speaker M Thambidurai adjourned the House for the day.
Earlier, Parliamentary Affairs Minister Ananth Kumar said the government has several times requested the Congress members to sit and participate in the discussions but they are not ready to listen.
"We are ready to debate any issue but they are not ready," he said, adding that during the discussion on agrarian crisis, the Congress members had walked out.
"Why is Congress doing a walk in, walk out...they will be walked out (sic) from all over," Kumar said while criticising the Congress members for throwing papers towards the Chair.
"It is highly condemnable. They should have apologised. This is against democracy... this is anti-tradition and anti-democracy," he added.
Earlier in the day, Congress members raised slogans, also accusing the government of adopting a "dictatorial" attitude. But the proceedings continued amid disturbances.
As soon as the House took up the Question Hour, Congress leader in the Lok Sabha Mallikarjun Kharge raised the issue of cow vigilantism. But Speaker Sumitra Mahajan said he would not be allowed to raise any issue during the Question Hour.
After the Question Hour, the Congress members continued to protest and sought to raise various issues ranging from lynchings in the name of protecting cows to the agrarian crisis and the farmers' plight.
As External Affairs Minister Sushma Swaraj rose to make a statement on the Indians missing in Mosul city of Iraq, Congress members were unrelenting and Kharge was heard saying that they wanted to raise issues relating to mob lynching and farmers.
However, the Speaker adjourned the House first till noon and then till 12.45 pm as noisy scenes prevailed.
RAJYA SABHA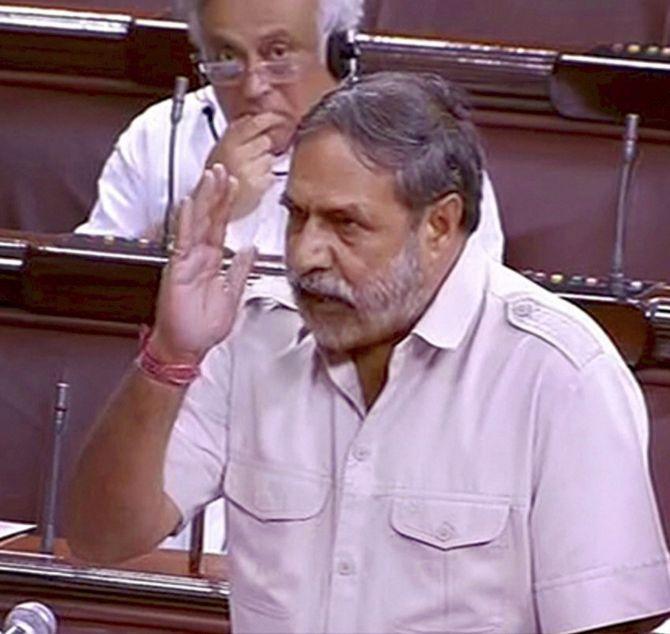 Meanwhile, the Rajya Sabha witnessed acrimonious scenes over Leader of the House Arun Jaitley's remarks that adjournment notices were being "grossly abused" for publicity.
Trouble started soon after the House met for the day at 11 am when Congress leader Anand Sharma wanted to raise an issue under Rule 267, which prescribes suspension of business to take up a matter.
Several members had given notices under Rule 267.
Deputy Chairman P J Kurien did not allow several of these notices but asked Sharma to spell out his matter.
The Congress leader said the National Democratic Alliance government was making efforts to undermine the stature of Mahatma Gandhi, Jawaharlal Nehru and Indira Gandhi.
Kurien disallowed this notice but Defence and Finance Minister Jaitley, objected to Sharma's remarks, saying adjournment notices were being "grossly abused" for publicity.
This led to vociferous protests by the Congress members.
Amid the protests, Jaitley went on to say, "In every case, we have found these are not issues under the motion of Rule 267 and therefore, it is a practice which is being grossly abused. Therefore, the Chair must also be guided by a principle that you can't have a Zero Hour for the benefit of TV cameras. That is what something which is happening today. ... This has all been enacted."
He demanded that Sharma's remarks be expunged.
He said some other members have also given notices and the Chair must protect their rights.
He was apparently referring to a notice given by BJP member Subramanian Swamy to raise the issue of Samjhauta Express blast of 2005, regarding which some media reports have suggested that some crucial evidence had been ignored.
Jaitley also insisted that rules do not allow references being made in the House to those who have held high Constitutional positions.
Sharma, however, said he had not referred to any high dignity. To this, Jaitley said, "we know the spirit of what you are saying."
Leader of Opposition Ghulam Nabi Azad said the government was trying to insult leaders like Mahatma Gandhi and Nehru who had fought for India's independence.
"The centenary of those people are being observed who had no connection with the freedom struggle. They are doing 'pick and choose'," he alleged.
Kurien said all notices under Rule 267 were being rejected but the Chair has to first listen to the member to take a decision.
Dravida Munnetra Kazagham member Thiruchi Siva said he was "hurt" by Jaitley's remarks that issues were being raised for TV publicity.
To this, Jaitley said, "Every day what is not point of order is raised as point of order knowing fully that you are violating the rule.
"None of us were born today that we don't realise each other's games. We know this noise is being created only because some members want to raise the issue of Samjhauta case. We know that. Don't provide an alibi. I know they are your ally parties. Don't provide an alibi."
He said if members want to raise the issue of Samjhauta, they should be allowed. "Don't deflect the issue," he noted.
Congress members then entered the Well, raising slogans and forcing a brief adjournment of the House till noon.
When the House re-assembled for Question Hour, the Opposition members demanded expunction of Jaitley's remarks that adjournment notices were being "misused" for publicity.