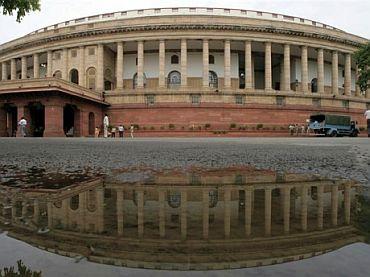 Negating a Supreme Court order, Parliament on Friday passed a bill that maintains the right of those in jail to contest polls, with the government saying the court verdict was wrong and the legislature has constitutional duty to correct it.

The Representation of the People (Amendment and Validation) Bill, 2013 was rushed through in the Lok Sabha and passed within about 15 minutes after a brief discussion.

Some members wanted an elaborate debate on the bill but the overwhelming majority of the House, including Leader of Opposition Sushma Swaraj, pushed for its passage even without discussion.
The bill negates the July 10 order of the Supreme Court, which held that those in jail cannot vote as per RP Act and hence cannot qualify for contesting elections to Parliament or state legislatures. The bill was passed by Rajya Sabha on August 27.

Moving the bill for consideration and passage, Law Minister Kapil Sibal said, "The Supreme Court is right because it is final, it is not right because it is right."

Talking about the apprehensions caused by the apex court verdict, he said, "If an SHO decides to detain you on the eve of elections, then you cannot file nominations." He said, "It is our constitutional duty to correct it (the verdict)."

Sibal's views were on the lines of some of the members, including Bharatiya Janata Party's Kirti Azad and Bahujan Samaj Party's Dara Singh Chouhan.

The Amendment Bill seeks to add a proviso to sub-section (2) of section 62 of the RP Act to state that a person cannot cease to be a voter while in detention as his or her right is only temporarily suspended. One of the amendments states that as the name of the jailed person continues to be on the electoral rolls, he or she also continues to be an elector and can file nomination for an election.