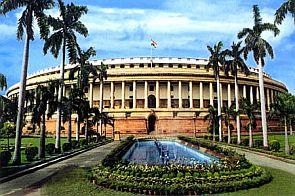 Parliament on Thursday expressed shock at the death of Sarabjit Singh and condemned the "inhuman treatment" meted out to him in a Pakistan jail where he was brutally assaulted last week.

The issue resonated in both Houses, with Lok Sabha passing a resolution after two adjournments forced after members created an uproar and shouted anti-Pakistan slogans.
"This House expresses its deep sense of shock and sorrow on the sad demise of Sarabjit Singh, an Indian citizen in Jinnah Hospital, Lahore in Pakistan today after he was brutally assaulted by his fellow inmates in a Pakistan jail," said the resolution moved by Speaker Meira Kumar.
"This House condemns the inhuman treatment meted out to Sarabjit Singh in Pakistan jail and hopes that the culprits will be brought to book," said the resolution.
The House mourned the demise with members standing in silence for a while as a mark of respect to Sarabjit.
The issue was raised as soon as the House assembled for the day, with BJP members storming the Well raising anti-Pakistan slogans in protest against Sarabjit's death.


"Pakistan down down," they chanted.

Shahnawaz Hussain (BJP) was heard questioning as to why the House was not condemning Pakistan.

The House witnessed two more adjournments on the issue as well as some other matters.
As the House met again at noon, the Speaker moved the resolution.
Rajya Sabha also saw members protesting the death of Sarabjit and condemning the murderous assault.

Leader of Opposition in the Rajya Sabha Arun Jaitley said "today is a day of sadness, regret and anguish" in view of the way Sarabjit Singh was killed in Pakistan.
"I am sure the whole Parliament will raise its voice unanimously. The issue was lingering for long and we express our condolences with the family," he said.
The BJP leader used the issue to target the government, questioning as to which way India's foreign policy headed. "It is a sample of how our tottering government has turned coward," he said.

Jaitley said Pakistan has lost several battles with India and this is an alternative to execution of death sentence that Pakistan has found.

"Even birds cannot venture or fly near the prison cell as prisoners are kept in seclusion," he said.

"A prisoner cannot be attacked like that and Pakistan's claim that this is an act of non-state actors cannot be believed as it seems that Sarabjit was thrown before wolves," Jaitley said.
He insisted that this could not have happened "without the total involvement of Pakistan government and police forces".

He asked the government to do some introspection of its foreign policy.
BSP leader S C Mishra termed Sarbajit's death as murder and said it needs to be condemned strongly.
© Copyright 2023 PTI. All rights reserved. Republication or redistribution of PTI content, including by framing or similar means, is expressly prohibited without the prior written consent.