Lok Sabha proceedings were adjourned till 12 noon amid protests by Opposition members just after the House met for the day on Wednesday.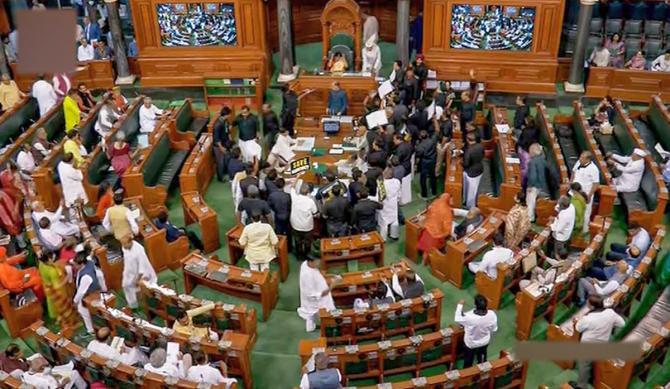 Opposition MPs were on their feet as soon as the House assembled at 11 am, raising slogans and demanding a Joint Parliamentary Committee (JPC) probe in the Adani issue.
They displayed placards as some Opposition members trooped into the Well of the House.
Bhartruhari Mahtab, who was in the Chair at the time, adjourned the House till 12 noon amid the noisy protest.
The treasury and Opposition benches are at loggerheads over the Adani issue and the disqualification of Congress leader Rahul Gandhi from the lower house.
Since the start of the second leg of the Budget Session on March 13, Lok Sabha has been witnessing frequent disruptions with Opposition members demanding a JPC probe.
The Question Hour has been disrupted every day since March 13.
Rajya Sabha proceedings too were adjourned till 2 pm within minutes of assembling as opposition MPs kept raising slogans demanding a JPC probe into the allegations against the Adani Group.
MPs of the Congress and other parties, several of them dressed in black, started raising slogans such as "Modi-Adani Bhai Bhai" as soon as Chairman Jagdeep Dhankhar took his seat.
Amid slogan shouting, listed papers were tabled in the House.
Members from opposition parties also raised slogans demanding a probe by a joint parliamentary committee (JPC) into allegations of corporate fraud and stock price manipulations against the Adani Group of Companies.
After the laying of papers, Dhankhar said he has received eight notices under Rule 267 of the House for suspension of listed business and take the matters mentioned in the notices.
However, as slogans continued, he adjourned the proceedings till 2 pm.
The Constitution (Scheduled Tribes) Order (Fifth Amendment) Bill, 2022, and The Constitution (Scheduled Tribes) Order (Third Amendment) Bill, 2022 are listed for consideration and passage, according to the legislative business schedule of the Rajya Sabha.