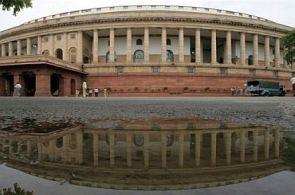 Opposition members on Friday forced adjournment of Parliament till noon by demanding resignation of Prime Minister Manmohan Singh in connection with alleged scam in allocation of coal blocks.
Bharatiya Janata Party members stormed the Well in both the Lok Sabha and the Rajya Sabha as soon as Question Hour was taken up.
In the Lok Sabha, Akali Dal members were also in the Well demanding a Supreme Court-monitored Special Investigation Team probe into the '1984 genocide'.
Members of the Telugu Desam Party and BJP were also seen on their feet carrying placards in support of the Akali Dal demand.
BJP members rushed to the Well raising slogans against the government and demanding resignation of the prime minister.
Ab toh yeh spasht hai, poori sarkar bhrasht hai (It is now clear, the entire government is corrupt)', 'koyle ki dalali main, poori Congress kaali hai (entire Congress in tainted in coal scam), the BJP members shouted.
Earlier, Speaker Meira Kumar read out an obituary reference to the passing away of Krishna Kumar Goyal, a member of the sixth and seventh Lok Sabha.
She tried to carry on with the Question Hour but as members were unrelenting, the House was adjourned till noon.
In the Rajya Sabha, similar scenes were witnessed with slogan shouting BJP members trooping into the Well as soon as Chairman Hamid Ansari took his seat.
Despite din, Ansari took up the first question and asked BJP members to go back to their seats.
"Pradahan Mantri Istifa do", they kept shouting ignoring the Chair's request to let the Question Hour run.
Amid uproar, Ansari adjourned the House till noon.
Photograph: B Mathur/Reuters