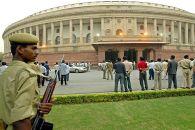 The Bharatiya Janata Party demand for the prime minister's resignation over coal block allocations and a host of other issues on Tuesday stalled Parliament proceedings, leading to the abrupt adjournment of the Lok Sabha without transacting any business.
Proceedings were also disrupted with Samajwadi Party slamming the government over Chinese incursions in Ladakh and Trinamool Congress accusing the Centre of treating West Bengal in a step-motherly manner.
Rajya Sabha witnessed two adjournments till 2 pm, while the Lok Sabha was adjourned for the day due to unabated slogan-shouting by protesting members in the well.
While BJP also sought sacking of Law Minister Ashwani Kumar alleging his interference in preparation of CBI report to the Supreme Court on the coal scam, Dravida Munnetra Kazhagam sought resignation of P C Chacko as the Chairman of Joint Parliamentary Committee looking into the 2G scam.
At one point, Yashwant Sinha of the BJP walked up to Dravida Munnetra Kazhagam leader T R Baalu and had some discussion.
As Lok Sabha reassembled at noon after the first adjournment, members of BJP, Trinamool Congress, SP and Left parties trooped into the well raising slogans on their respective demands.
A group of Congress members raised vociferous slogans and waved placards demanding a separate Telangana state. A Telugu Desam Party member was also in the well with a similar placard.
Left members raised slogans against "state-sponsored violence" in Mamata Banerjee-ruled West Bengal.
Slogan-shouting DMK members were also in the well as former telecom minister A Raja was seen standing in the aisle and Baalu seeking to raise the Telecom issue in the din.
As the din continued, All India Anna Dravida Munnetra Kazhagam leader M Thambidurai who was in the chair, adjourned the House for the day.
Similar scenes were witnessed in the Rajya Sabha with slogan shouting BJP members trooping into the well demanding prime minister's resignation, forcing its adjournment first till noon and later till 2 pm.
© Copyright 2022 PTI. All rights reserved. Republication or redistribution of PTI content, including by framing or similar means, is expressly prohibited without the prior written consent.