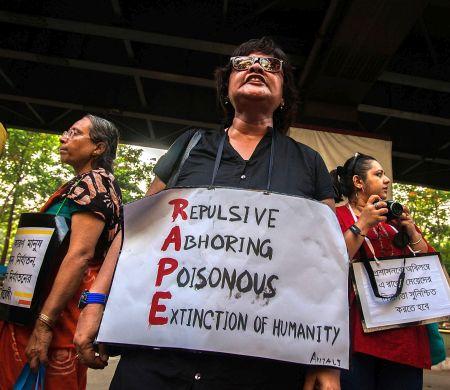 Kolkata's Park Street rape survivor, who was brutalised inside a moving car in February 2012 triggering nationwide outrage, died at a city hospital on Friday.
"She passed away in the morning. She was suffering from health problems and got admitted to a city hospital for last few days," Joint Commissioner of Police (Crime) Pallab Kanti Ghosh told PTI.
The 40-year-old, who boldly revealed her identity to the world in 2013, died of meningoencephalitis.
She was raped in a moving car in Park Street area on February 6, 2012, by five young men who picked her up from outside a pub.
The incident triggered nationwide outrage as the administration initially termed it as "a fabricated case to malign authorities." West Bengal Chief Minister Mamata Banerjee widely criticised for commenting that the complaint of rape was a "shajano ghotona" -- fabricated.
While three of the accused are behind bars, two others, including the prime accused, are still at large.

Image: A protester shouts slogans against the Park Street rape in Kolkata.

With inputs from PTI