Five days after deadly attacks in Paris, which claimed 129 lives, details are emerging about the identities of the men who carried out the attacks. Here's a round up of the latest developments.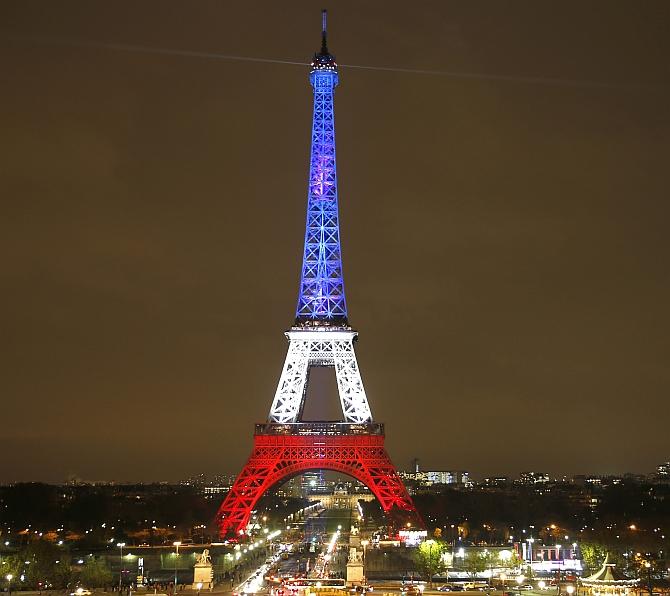 >> Three suspected terrorists killed in raid targeting the attack mastermind
Three suspected terrorists were killed during a police siege on Wednesday that targeted the suspected mastermind of Friday's attacks, Belgian national Abdelhamid Abaaoud. The terrorists were holed up in an apartment north of Paris and the raid is still ongoing. Five people have been arrested.
The terrorists killed by the police included a woman, who detonated an explosives vest, according to police sources. At least four policemen have been injured during the raid.
It is still unclear whether Paris attacks' mastermind Abdel Hamid Abooud is one of the three killed.
---
>> Two Paris-bound flights from US diverted
Two Paris-bound Air France flights from the United States were diverted on Tuesday night due to security reasons, media reports said.
The American media reported that one jet was diverted to Salt Lake City, Utah, after taking off from Los Angeles, while the second left Washington and was diverted to Halifax, Canada.
Canada's CBC News posted on Twitter that passengers were being removed from Flight 55, diverted to Halifax, and there was no word on why the flight was diverted.
---
>> France is now hunting for additional Paris attacker
French authorities are now hunting at least one additional attacker from Friday's Paris shootings after surveillance video showed three men in a car used for an assault on restaurants and bars, two sources close to the investigation told Reuters.
"Three men were in the black Seat used to fire on the bar terraces and restaurants," a judicial source said.
One man from the car, Salah Abdeslam is already being sought by police. His brother Brahim, who was also in the car, blew himself up at the scene. Police have yet to identify the third man they spotted in the video.
"He is therefore being sought," a second source close to the investigation said.
---
>> Surrender, says brother of alleged Paris attacker
The older brother of Salah Abdeslam -- the man being hunted internationally for his alleged role in the Paris terror attacks last week -- urged the suspect Tuesday to turn himself over to authorities.
"I would tell him to surrender. That's the best solution," Mohamed Abdeslam told CNN's Erin Burnett. "But of course, if he has something to do with it, he must accept responsibility."
The plea came as a source close to the investigation told CNN there is a "strong presumption" that another suspect linked to the attacks is at large, in addition to Abdeslam.
"These are not regular people," Mohamed Abdeslam, 29, said of his brothers. "You cannot have the slightest doubt that they have been prepared, that they must not leave any trace which would cause suspicion that they might do such things. And even if you saw them every day, their behavior was quite normal."
---
>> French aircraft bomb Islamic State targets in Raqqa
France's defence minister said 10 warplanes were targeting Islamic State's Syrian stronghold of Raqqa for the third consecutive day on Tuesday and vowed that the campaign against the group would intensify in the coming days.
"At this moment, our air force ... 10 fighter jets are again hitting Raqqa, and as you know tomorrow the aircraft carrier Charles De Gaulle will leave for the eastern Mediterranean to continue strikes on specific targets in particular around Raqqa and Deir ez-Zour," Jean-Yves Le Drian told TF1 tv channel.
He added that he believed Russia's position was shifting since confirmation that a tourist plane full of Russians was blown up by Islamic State over the Sinai last month.
---
>> Cell phone believed to have been used by Paris attacker recovered
Investigators in Paris have recovered a cell phone believed to belong to one of the attackers, which could yield insight into the plot and the suspected network behind it, counterterrorism and intelligence officials told CNN.
The phone contained a message, sent before the attacks began, to the effect of: OK, we're ready, the officials said.
---
>> Twitter account @ParisVictims sends hourly tributes to each victim
A Twitter account is paying tribute to those killed in the Paris terror attacks, by giving each victim a human face and identity, ABC.net reported.
The @ParisVictims account, titled En memoire -- French for 'in memory' -- was set up by US website Mashable.
The account has been sharing a photograph and short description of each victim, with many including short quotes from friends or family.
In an article explaining the motive behind the project, Mashable real-time news editor Brian Ries wrote that the victims were more than just numbers.
"When one reads about the tragic news coming out of Paris, there is so much focus on the numbers ... But the victims are more than numbers," he wrote, adding, "They were dads. Boyfriends. Girlfriends. Students. Big sisters. Lifelong friends. Some loved sports. Others were dedicated musicians.
Since it was set up a day ago, the account has paid tribute to almost 30 victims, and Mashable said the posts would continue as the identities of each victim were known.
---
>> England and France pay tribute at Wembley
English football fans saluted France on Tuesday by roaring out the 'Marseillaise' national anthem at a friendly match which became a show of solidarity joined by British politicians and royalty just days after Islamic State militants struck Paris.
David Cameron, Prince William and London Mayor Boris Johnson were in the stands as tens of thousands of England supporters joined French fans in singing their anthem at Wembley Stadium which was guarded by armed police.
An estimated 80,000 fans then applauded wildly as the two teams stood together in one long line ahead of a perfectly observed minute's silence in a solemn mark of respect for the at least 129 people who were killed in the Paris attacks.
The words of the French national anthem were displayed on large screens, the stadium's arch was lit up in the blue, white and red of the French tricolour and supporters on both sides carried French flags and messages such as "Pray for Paris".
Explosions at that match between France and Germany on Friday signalled the beginning of the worst attack on Europe since the 2004 Madrid bombings.
---
>> Germany 'freedom' match called off over bomb threat
A 'credible bomb threat' forced the German Police to call off a football match that was meant as a "symbol of freedom" after the Paris attacks and was to be attended by Chancellor Angela Merkel.
Hanover city police chief Volker Kluwe said there had been "serious plans to cause an explosion" in the 49,000-capacity stadium, and that authorities had acted on "a concrete threat scenario".
"We received a serious indication that a bomb attack was planned inside the stadium tonight," he told public broadcaster ARD.
Thousands of fans were evacuated, without signs of panic, from Hanover's HDI Arena, as hundreds of police, some on horseback, secured the area.
Merkel had already arrived at the venue but was quickly ushered out, while the national side had not yet arrived, media reports said.
However, no explosives were found.