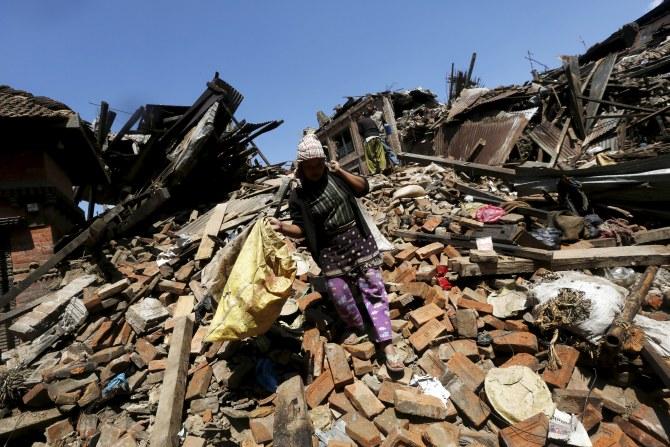 A woman carries her belongings as she walks over collapsed house after earthquake in Bhaktapur, Nepal. Photograph: Adnan Abidi/Reuters
Panic gripped people as fresh tremors were felt in the earthquake-ravaged Nepal on Monday night although its intensity was not known immediately. As soon as the tremors were felt, people rushed out of their buildings to open grounds.
A majority of people, who were already sleeping in open areas, also panicked.
Crisis is looming over quake-hit Nepal following shortage of food, water, electricity and medicines as fear drove tens of thousands of people out into the open and the death toll soared to 4,000 amid fears that it could touch 5,000.
The death toll in Nepal from the earthquake has risen to around 4,000, officials said.
Around 1,053 people are reported killed in the KathmanduValley alone and 875 in Sindhupal chowk.