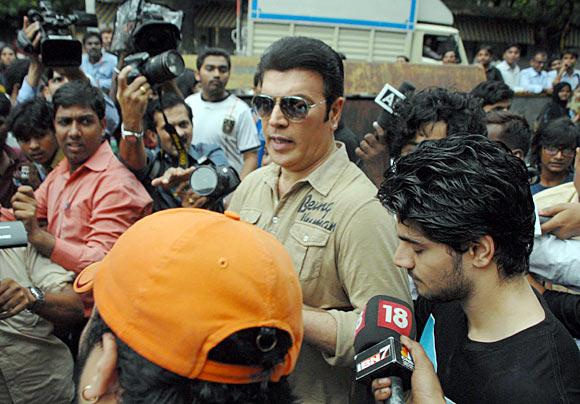 Actor couple Aditya Pancholi and Zarina Wahab, whose son Suraj is facing charges of abetting the suicide of actress Jiah Khan, have filed a Rs 100 crore defamation suit in the Bombay high court against Rabia Khan, the mother of the deceased.
Two days ago, the high court, hearing Rabia's plea, had transferred the probe from Mumbai police to the Central Bureau of Investigation, asking the agency to find out whether it was a case of suicide or homicide. The suit, filed by the Pancholis, was heard by Justice S C Gupte who on Friday asked the plaintiffs to serve a notice on Rabia and posted the matter for further hearing on July 9.
"So far, we have not got any notice but we know that the suit has been filed and would be heard on Wednesday (July 9)," said Rabia's lawyer Dinesh Tiwari. The suit, filed by Aditya, wife Zarina and daughter Sana, alleged that Rabia, a British national, had posted slanderous, defamatory and abusive comments on Twitter which had put the Pancholi family in poor light in the eyes of the society.
The suit referred to 18 tweets posted by Rabia between March 4 and May 1 which it said were defamatory to the Pancholis. It said in these 18 tweets, Rabia had allegedly made personal comments about the three members of Pancholi family.
The suit said that both Aditya and Zarina had been associated with the film industry for 30 years and had earned goodwill in the society. However, due to attack on them by Rabia in her tweets, the family was defamed and several fans, relatives and friends are "shocked and disturbed."
"An environment of hatred and embarrassment has been created for us and we have been shunned before the right thinking people in society," says the suit. The suit quantifies loss of reputation and goodwill to the Pancholi family at Rs 50 crore, damages for loss of business at Rs 25 crore and harassment at another Rs 25 crore.
Earlier, before filing the suit, the Pancholis had sent a legal notice to Rabia for allegedly making defamatory tweets to which she replied saying she stood by her statements. Rabia further alleged that even the Pancholi family had been making defamatory statements against her.
Rabia also said that the Pancholis were doing this only to deter her from pursuing legal remedies in a court of law against their son Suraj. Jiah, 25, was found hanging from a ceiling fan at her Juhu home on June 3 last year. The police suspected that she had committed suicide after Suraj, with whom she had a live-in relationship, broke up with her.
Image: Aditya and Suraj Pancholi