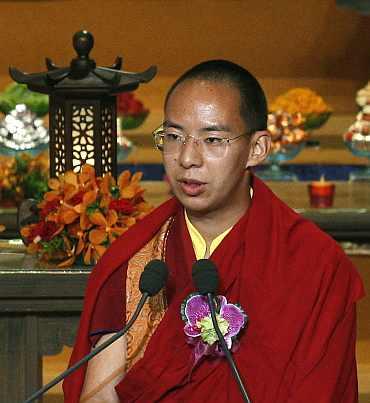 Panchen Lama, being groomed by China to rival exiled Tibetan spiritual leader the Dalai Lama, on Thursday made his first speech outside the Chinese mainland, highlighting the emergence of
dharma
from ancient India and need for its global promotion.
"In religion,
dharma
means law or natural law and is a concept of central importance. For many Buddhists, the
dharma
most often means the body of teachings expounded by the Buddha," the 22-year-old monk said.
His comments came during his first public appearance outside the Chinese mainland at the World Buddhist Forum in Hong Kong. Hong Kong is a special administrative region of China with a governing structure of its own.
"Buddha was a spiritual teacher from India on whose teachings Buddhism was founded. Since the prosperity of dharma in ancient India, many learned Buddhists have established monasteries and institutes at various countries for different races, promoting Buddhism like rainbows appearing all over the world," he said.
In his speech Panchen Lama confined to religious issues without referring unrest in some to the Tibetan areas and to recurring suicides by young Buddhist monks calling for the return of the Dalai Lama from his exile.
Over 30 people attempted self-immolations including one in New Delhi.
In Tibetan Buddhist hierarchy, Panchen Lamas is regarded as the second most after the Dalai Lama.
Reporting his speech, China's state-run Xinhua news agency described Panchen Lama as "one of the two most senior living Buddhas in Tibetan Buddhism" without directly referring to the Dalai Lama, whom it criticises as splittist trying to separate Tibet from China.

Image: The 11th Panchen Lama Gyaincain Norbu, the official Lama appointed by Beijing to replace Dalai Lama who was chosen according to the tribe's tradition, speaks during the the Third World Buddhist Forum in Hong Kong | Photograph: Tyrone Siu/Reuters