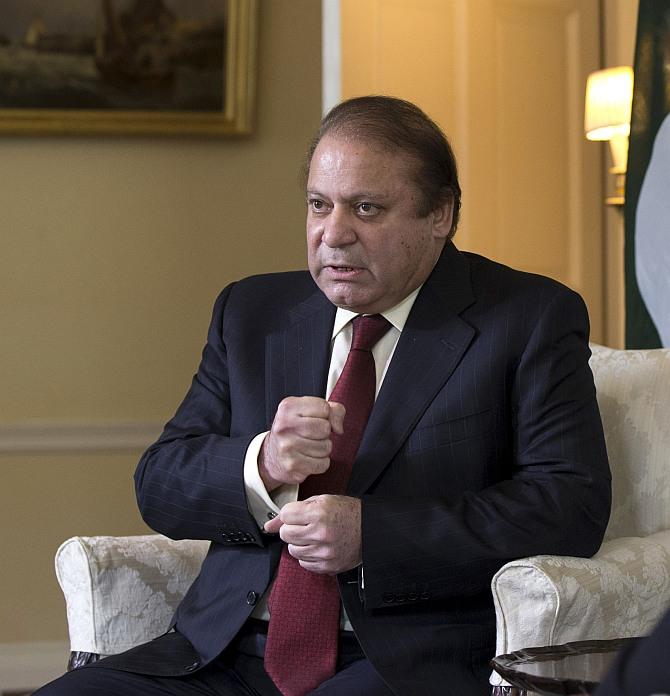 Pakistan's Supreme Court will announce its verdict in the Panamagate case on Thursday against embattled Prime Minister Nawaz Sharif and his family for alleged corruption, the top court's registrar said on Thursday.
According to a supplementary cause list issued on Thursday evening, the apex court will announce its verdict at 11:30 am.
The decision is keenly awaited as it would determine the course of Pakistan's polity and with it Sharif's. An adverse decision may result in Sharif's disqualification, or even snap elections.
The high-profile scandal is about alleged money laundering by Sharif in 1990s, when he twice served as prime minister, to purchase assets in London. The assets surfaced when Panama Papers leak last year revealed that they were managed through offshore companies owned by Sharif's children.
The assets include four expensive flats in London.
A six-member joint investigation team set up by the court to investigate the charges the 67-year-old Sharif and his family submitted its report to the court on July 10. It has said the lifestyle of Sharif and his children were beyond their known sources of income, and recommended filing of a new corruption case against them.
Sharif has dismissed the report as a "bundle of baseless allegations" and refused to quit, despite demands to do so from several quarters, including opposition political parties.
The apex court concluded hearing the case on July 21, but reserved its verdict.
The court's decision to issue the verdict on Friday came as a surprise for many as it earlier announced the cause list for two weeks which did not include the Panamagate case.
The court had set up benches to hear all cases till August 11. The roster showed that two of the three judges on the Panama case bench will be out of Islamabad from next week until August 11.
In the wake of the verdict on Friday, the Islamabad police have announced special security arrangements and closed the capital's central "Red Zone" area, which has important buildings including the Supreme Court, for the general public.
The entry to the court on Friday will be restricted to only those having special passes.
The six-member JIT was set up in May by the Supreme Court with the mandate to probe the Sharif family for allegedly failing to provide the trail of money used to buy properties in London in 1990s.
Last year, the Panama Papers revealed that three of Prime Minister Sharif's children owned offshore companies and assets not shown on his family's wealth statement. The assets in question include four expensive flats in Park Lane, London.
The top court took up the case in October last year on petitions filed by Pakistan Tehreek-e-Insaf, Awami Muslim League and Jamaat-e-Islami and reserved the verdict in February after conducting hearings on a daily basis.