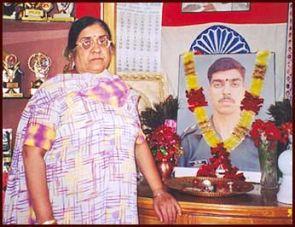 A video purportedly showing a Pakistani soldier sharing details of an encounter in which Captain Saurabh Kalia was killed in 1999 just before the Kargil war broke out has emerged, sparking a fresh debate on his death amid allegations that he was brutally tortured.
The video clip has been uploaded on YouTube.
In the video, Naik Bhule Khandan shared the details of the encounter in which 23-year-old Kalia and five other soldiers were killed.
"There was an attack on us from India on May 13, 1990. Six people from Indian side who were on a reece patrol advanced towards us. They wanted to capture our post and if they had succeeded they would guard the way going towards Leh." Bhule said.
"Their plan did not work out and instead we hunted them down.
"When they came close we wanted to capture them but they started running away and then we started firing at them, he said.
"We shouted across the LoC to Indian forces to come and take away their dead soldiers. But their people never had the courage to take their dead bodies."
Captain Kalia and other soldiers were captured by Pakistan and allegedly tortured brutally during the war that lasted from May to July in 1999.
Kalia from the 4 Jat Regiment was the first Indian Army officer to observe and report the large-scale intrusion by the Pakistani Army into the Indian side of the Line of Control in the Kargil sector of Jammu and Kashmir.
When their bodies were handed over to India, the autopsy reports revealed extreme torture including cigarette burns, ear drums pierced with hot iron rods and amputated limbs.
The then interior minister of Pakistan, Rehman Malik had claimed that Kalia may have been killed by extreme weather.
Captain Saurabh Kalia's father NK Kalia wants the Indian government to raise the matter with the International Court of Justice.
© Copyright 2020 PTI. All rights reserved. Republication or redistribution of PTI content, including by framing or similar means, is expressly prohibited without the prior written consent.