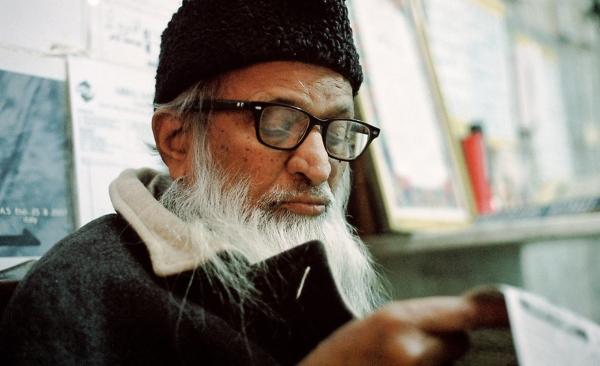 Legendary Pakistani philanthropist Abdul Sattar Edhi, who had dedicated his life to humanity and serving the poor, died in Karachi from renal failure. He was 92.
Edhi died late Friday night after facing respiratory problem during dialysis due to his frail health.
He was accorded a state funeral with tens of thousands of people including President Mamnoon Hussain and army chief General Raheel Sharif attending his funeral.
Edhi, who had dedicated his life to humanity and serving the poor, was widely respected in Pakistan due to his humanitarian and social welfare works.
Edhi foundation had taken care of Indian girl Geeta during her over a decade-long stay in Pakistan. Geeta, with speech and hearing impairments, was about 11 years old when she is believed to have accidentally crossed over to Pakistan and returned in India in October last year.
The government has also announced a day of mourning for Edhi while the provincial Sindh government has said three days of mourning will be observed.
Tens of thousands of mourners showed up at the funeral prayers held at the National Stadium amid right security as Edhi's son, Faisal stood in the front row with the President and military chief who later condoled him personally.
Besides Hussain and Raheel, the heads of the other armed forces, the Chief Ministers of the Punjab and Sindh provinces, Chairman Senate and other leading political and prominent personalities attended the funeral in which a military guard
of honour was also given to Pakistan's celebrated philanthropist.
Major shopping centres and markets remained closed and the roads remained deserted across Pakistan.
Edhi will be laid to rest at the Edhi village he founded 25 years ago where thousands more are expected to be part of the funeral procession. The well-known social worker had chosen the space for his grave 25 years ago at the Edhi village which is home to hundreds of homeless, destitute, abandoned children and the elderly.
Tributes from all walks of life started pouring in on the social media and television channels soon after Faisal announced his father had passed away.
"Truly saddened to hear of Edhi Sahab's passing. He was a noble soul & a great Pakistani. He gave the first big donation to SKMT 26 years ago," Chairman of Pakistan Tehreek-e-Insaf party Imran Khan tweeeted.
Former president Asif Ali Zardari expressed profound grief and sorrow over the passing away of Edhi. "RIP #EDHI sahab," he tweeted.
Not only in Pakistan where the Edhi ambulance service is the largest free network for the needy and poor, philanthropist Edhi received accolades for his work from India, Bosnia, Lebanon and Myanmar. He was seen as the savior of the poor and needy as he roamed around the streets of Karachi helping thousands of people.
The Pakistan cricket team currently playing a tour match at Hove, Sussex in the UK also observed one-minute silence and wore black armbands to pay tributes to the noted humanitarian who won several international awards and recognition for his untiring work.
"The greatest thing about Maulana sahib is that he did all his charity and humanitarian work on private donations," Pakistan cricket team manager Intikhab Alam said.
"He passed away few hours ago due to kidney failure. He had been facing respiratory problems during dialysis due to his frail health," Edhi's son Faisal had said.
"He had confirmed burial space 25 years ago near Edhi village and will be buried there as per his wishes," he said.
He established the Edhi village with an aim to provide home to the homeless, destitute, and the elderly and was the chairman of Edhi Foundation known for its humanitarian work.
"Before his death, he donated his coronaries and body organs," Faisal said. "We can assure you that Edhi foundation and village will continue his legacy in humanitarian work."
Faisal said Edhi's kidneys failed in 2013 and he was on dialysis but he couldn't get a transplant because of his frail health.
In June, Zardari had offered to send Edhi abroad for treatment but the philanthropist refused saying he prefers to be treated at a government hospital in Pakistan.
Nominated several times for the Nobel peace prize, including this year, Edhi won a host of international awards in recognition of his work.
"My father's dream was to turn Pakistan into a welfare state and he single-handedly started the Edhi Foundation which carries on its operations through private donations. My father didn't own a house and the pair of shoes he died in were bought 20-years ago," he said.
Belonging to a family of traders, Edhi settled in Karachi in 1947. He was born in Gujarat and started welfare work in 1951 with the first home for homeless and sick in Karachi.