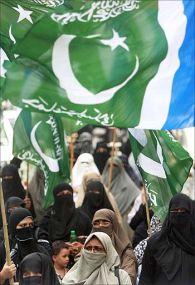 A Pakistani court has stopped the screening of foreign films, serials and television shows, especially Indian content, on the country's TV channels, triggering panic and outrage among exhibitors and viewers.
While staying the beaming of foreign content, Lahore High Court Justice Khalid Mahmood Khan on Tuesday ruled that Indian films and television serials were included in "Negative List" under the current bilateral trade regime.
He also directed the federal government and the Pakistan Electronic Media Regulatory Authority to submit a detailed reply in this regard at the next hearing on December 12.
The order was issued in response to a petition filed last month by controversial TV talk show host Mubashir Lucman, a former film producer known for his anti-India stance. Lucman had contended that Indian films and TV serials were being imported in violation of Pakistani regulations.
He further claimed that under Pakistani rules, Indian movies that are shot completely in India and are sponsored by an Indian cannot be screened in the country.
Lucman's counsel argued that the government had allowed the import and exhibition of Indian and other foreign films and serials through a Statutory Regulatory Order issued in 2006.
"The impugned SRO is in clear violation of Pakistan's import policy and the rules of PEMRA," the counsel claimed.
PEMRA fined televisions channels for violating regulations but this failed to stop them from airing foreign content, he said.
The judge remarked: "The Indian films and other material are included in the negative list which cannot be changed by issuing a SRO."
The "Negative List" contains items that cannot be traded between India and Pakistan.
Despite the court's order, none of the Pakistani channels have stopped screening foreign content, including Indian and Turkish serials that are extremely popular in the country.
Pakistani viewers and film distributors questioned the order, saying it would affect the movie industry that depends on imports to ensure people come to watch films at new multiplexes.
However, some Pakistani actors, producers and directors have been protesting against the exhibition of Indian films and serials. They have claimed that the domestic film and television industry is being crippled because of this.
Earlier, the high court had imposed restrictions on the screening of Indian films and laid down conditions for their release in an interim order issued last month.
Indian movies have largely fuelled a boom at the Pakistani box office after former military ruler Pervez Musharraf eased restrictions on their import in 2006. The screening of Indian movies was banned by Pakistan after the 1965 war but pirated copies of the films were widely available across the country.