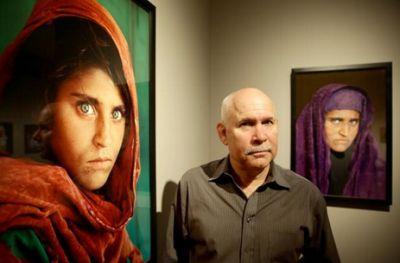 A Pakistani court on Friday ordered the deportation of Sharbat Gula, National Geographic's famed green-eyed 'Afghan Girl' immortalised in a 1985 haunting picture on the cover, after she pleaded guilty to charges of staying in Peshawar with fake ID cards.
A special anti-corruption and immigration court in Peshawar ordered Gula's deportation to Afghanistan after serving a 15-day jail sentence besides slapping a fine of Pakistani Rs 1,10,000.
Gula, who was dubbed as 'Mona Lisa of Afghan war', was arrested by the Federal Investigation Agency on October 26 from Peshawar for alleged forgery of a Pakistani Computerised National Identity Card.
The court issued the verdict after the accused pleaded guilty to the charges, Gula's lawyer Mubashir Khan said.
"She has served about nine days in jail already and will remain imprisoned for six more to complete her sentence," he said.
The fine was also paid so she is will be deported from Pakistan at the end of her sentence, he added.
The court was informed during the hearing that Gula was a widow and the sole breadwinner of family. She was also suffering from Hepatitis C.
The United Nations high commissioner distanced itself from Sharbat Gula, claiming that she was not a registered refugee.
According to the interim chargesheet submitted on November 1, the prosecutor said that she accepted the main charge of faking her identity to get the CNIC.
Gula said that her late husband, Rehmat Gul, had earlier made a manual national identity card in 1988, which was used to get the CNIC with the help of an agent who was bribed.
The FIA also registered an FIR on October 20 against three former government employees for fraudulently issuing Pakistani CNICs to Afghan nationals, including Gula.
Gula became famously known as the 'Afghan Girl' when National Geographic photographer Steve McCurry took her photograph at the Nasir Bagh refugee camp situated on the edge of Peshawar in 1984.
Her photo, with hauntingly sea-green eyes, appeared on the cover of the June, 1985 issue of the National Geographic magazine and went to become one of magazine's most famous covers.
The photo, which was taken by Steve McCurry in a refugee camp in Pakistan in 1984 when Gula was about 12 years old, was compared to Leonardo Da Vinci's Mona Lisa, with National Geographic also making a short documentary on her.