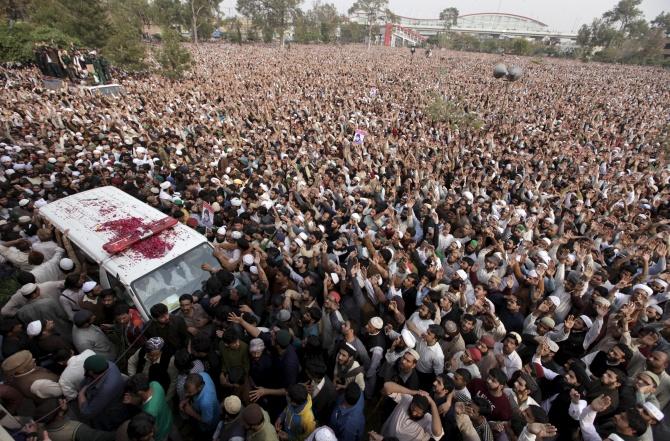 People raise their hands next the ambulance carrying the body of Mumtaz Qadri during his funeral in Liaqat Bagh in Rawalpindi, Pakistan. Photographs: Faisal Mahmood/Reuters
Tens of thousands of Islamist supporters of Mumtaz Qadri chanting provocative slogans on Tuesday attended his funeral, a day after the ex-police commando was executed for killing liberal Punjab governor Salman Taseer who sought reforms in Pakistan's controversial blasphemy law.
"Qadri, your blood will bring the revolution" and "The punishment for a blasphemer is beheading" were heard as supporters of Qadri threw flowers at the casket and flocked the historic Liaquat Bagh ground in the heart of Rawalpindi.
While a police official said that over 15,000 people were present inside the sprawling ground in the garrison city, private estimate put the number of those attending the funeral nearly 1,00,000.
The roads to Liaquat Bagh were blocked off but thousands arrived on foot. Roads around government buildings, the Parliament and diplomatic compounds were also closed.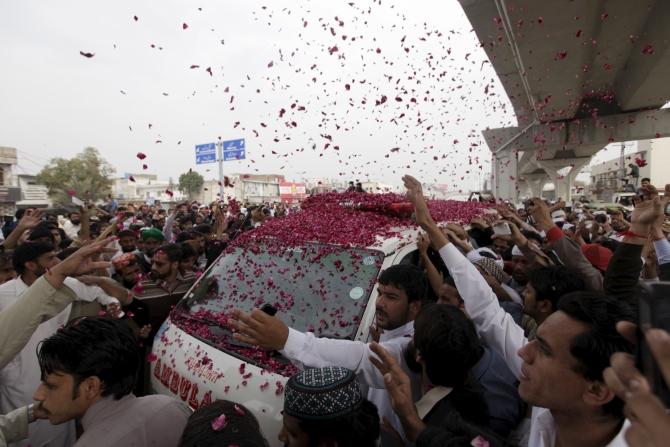 Supporters of Mumtaz Qadri shower rose pastels on an ambulance carrying the body of Qadri for funeral in Rawalpindi, Pakistan.
The gathering was peaceful as the ambulance carrying the body inched through the sea of supporters to the burial site at Qadri's ancestral village near Bhara Kahu in suburbs of Islamabad.
Pakistan remained on high alert as security personnel were deployed at all main junctions and sensitive areas in the capital and the adjacent Rawalpindi to avoid any untoward incident as some supporters were also seen carrying sticks.
"Special measures have been taken to check any untoward incident," an interior ministry official said. Fearing violence by Qadri's supporters, most of the private schools in twin cities of Rawalpindi and Islamabad have been closed for a second day.
Former police commando Qadri, who shot Taseer 28 times in broad daylight in an upmarket locality of Islamabad in 2011, was hanged in Adialia jail in Rawalpindi on Monday.
His execution triggered protests by thousands of Islamists who called it a "black day". Within hours of the hanging, street protests broke out in several cities by the supporters of Qadri, who considered him as a hero for defending the faith.
The supporters blocked roads and forced many shopkeepers to close down their stores.
The biggest protest was held in Karachi with around 8,000 people taking to the streets.
After the execution, Qadri's body was handed over to his family living in Sadiqabad area of Rawalpindi where hundreds of his supporters belonging to radical religious groups gathered to mourn his death.
Blasphemy is a sensitive issue in Pakistan, with even unproven allegations often triggering mob violence. The controversial law was introduced by former military dictator Zia-ul Haq in 1980s and so far hundreds of people have been charged under it.
Image: Supporters of Mumtaz Qadri shower rose pastels on an ambulance carrying the body of Qadri for funeral in Rawalpindi, Pakistan. Photograph: Faisal Mahmood/reuters