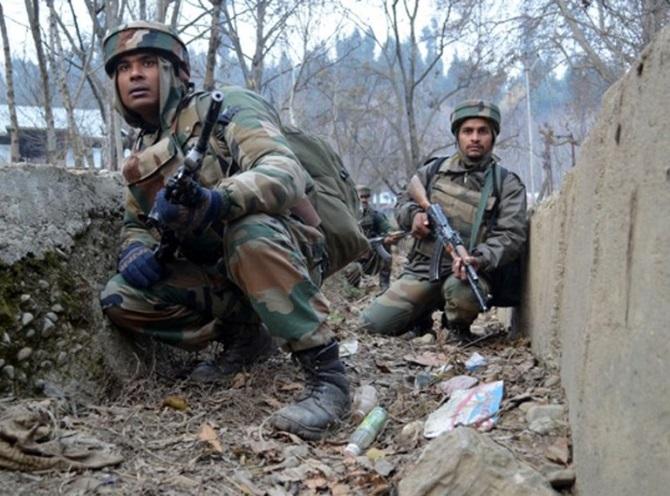 Villagers at the forefront of Pakistani firing say they feel like being in a war zone amid sounds of falling mortar bombs and rattle of automatic weapons and have appealed to the government to ask the neighbouring country to end the tension.
On Friday morning, three civilians, including two women, were killed and 17 others injured in shelling and firing by Pakistan on villages and BoPs along International Border in R S Pura and Arnia sectors of Jammu.
The devastation was visible -- blood stains all around the floor, broken windows, injured animals and splinter punctured walls.
"We are terrorised. It is the worst border skirmish. Pakistan rained mortar bombs... they were falling every where as if war has broken out," Jagdesh Chand of Sai village said.
Close to his house, a 82 mm mortar shell hit the compound of Subash's house as his family came out of their home for daily chores.
One family member died and Subash got injured along with his 12 and 10 years old daughters, Shivani and Mahi.
Like Subash's house, dozens of other homes in the area portrayed the same grotesque picture.
Jeet Singh of Abdullah village, close to the IB, was also hit by a splinter out of shell blast at his home. He has almost lost his right arm.
Like them, most of the injured have grave wounds.
"We fear the shelling will return back to haunt us. We have suffered and lost three villagers in Jora Farm. Today there were three more injured. We are sitting ducks. We want the government to ask Pakistan to end this," Mohmmad Basi said.
Deputy Chief Minister Nirmal Singh has condemned the Pakistan shelling and said that international community should declare Pakistan a "terrorist" state for engineering attacks on India and killing civilians in firing and shelling.
There have been 55 ceasefire violations by Pakistan in August and over 245 during the year so far.
"It was worst firing and shelling. The mortar bombs rained from all sides. It was difficult to save the family. We thought that we will be hit and killed any time," Dewan Chand of Addullian village said.
The Deputy Chief Minister, who rushed to GMC hospital to meet the injured, said, "I condemn this Pakistani firing. They have restarted firing and shelling and killing civilians along the border line because they have been exposed on the international front for supporting terrorism."
"World should not accept this type of terrorism. India cannot tolerate it. The way Pakistan is resorting the mortar shelling and killed three people and injured 16 others will not be tolerated," he told reporters here. On the intervening night of August 16-17, Pakistan troops had resorted to ceasefire violations in Saujiyan and Mandi sectors of Poonch district and shelled forward posts and civilian areas with 120 mm and 82 mm mortar bombs and heavy machine guns (HMGs).
On August 16, a woman was killed and five persons were injured as Pakistani troops fired 120 mm and 82 mm mortars bombs, HMGs and RPGs on border posts and civilian areas in Poonch and Rajouri districts.
On Independence Day, six civilians, including a sarpanch were killed and five others injured in heavy firing and mortar bomb shelling by Pakistani troops at several Indian posts and civilian areas.
Last month, there were 19 ceasefire violations in which four persons, including three jawans, were killed and 14 others injured.