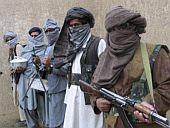 The Pakistani Taliban has said that it will carry out more attacks on "secular" political parties like the ANP and MQM, warning people to stay away from their rallies, a day after a blast outside an ANP gathering injured about 10 people.
Tehrik-e-Taliban Pakistan spokesman Ihsanullah Ihsan told the media in the country's northwest that his group would target the country's "secular parties" like the Awami national Party, which rules Khyber-Pakhtunkhwa province, and the Muttahida Qaumi Movement that is part of the ruling coalition at the centre.
"The attack on the ANP gathering was just the beginning. The attacks will intensify on the political gatherings of the secular ANP and MQM," Ihsan was quoted as saying by the media.

Ihsan warned people not to attend the rallies organised by these parties.
The ANP and MQM were on the Taliban's hit list because of their enmity to the militants, he said.
Referring to other political parties, Ihsan said: "Though they are all one as far as their secular ideology is concerned, the Taliban will announce its strategy regarding other parties later".
About 10 people, including policemen and ANP workers, were injured when a remote-controlled bomb went off in the parking area of a rally at Charsadda in Khyber-Pakhtunkhwa on Monday.

ANP chief Asfandyar Wali Khan addressed the rally but had not reached the venue at the time of the blast.
In his speech, Khan said ANP activists would not be cowed down by attempts on their lives.
This was the second terror attack targeting Khan in Charsadda, from where he was elected to Parliament in the 2008 polls.
In October 2008, five persons were killed when a suicide bomber entered Khan's guesthouse and blew himself up on Eid. Khan had escaped unhurt in that attack.