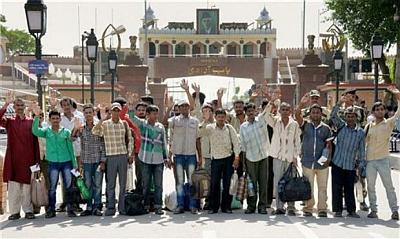 Pakistan on Sunday released 172 Indian fishermen as a goodwill gesture, two days after the prime ministers of the two countries decided to resume high-level contacts.

"We have released the prisoners who will travel to Wagah via train," Muhammad Sehto, the superintendent at Malir Jail, said.

The fishermen had been held at the Malir and Landhi district jail in Karachi for allegedly violating territorial waters in the Arabian Sea.

Their release coincided with the much-anticipated world cup match between Pakistan and India in Adelaide.

Sehto said majority of the fishermen released on Sunday were those who had completed their sentences.

The release came days after Prime Minister Narendra Modi spoke to his Pakistani counterpart Nawaz Sharif and other heads of the SAARC nations participating in the ICC Cricket World Cup and conveyed best wishes for the showpiece event.

Modi said he would be sending country's new Foreign Secretary
S Jaishankar on a 'SAARC Yatra' to "further strengthen our ties".
Sehto said another 349 Indians were still in jail in Malir and Landhi.
The superintendent at the Landhi jail, Ghulam Hussain said the Indian fishermen released from his jail were happy to be returning home.
"We feel sorry for these poor Indian fishermen but they violate the law and have to serve time in jail," he said.
Hussain said the jail authorities with the assistance of welfare organisations gave some cash and gifts to the Indian fishermen to celebrate their release.
India and Pakistan regularly arrest fishermen who venture into unmarked territorial waters of the two countries.
Last month, Pakistani marine security forces arrested 38 Indian fishermen after they strayed into Pakistani waters.
Pakistan in November last year released 40 Indian prisoners, mostly fishermen, from a jail in Karachi after Sharif shook hands and exchanged pleasantries with his Indian counterpart Modi at the SAARC Summit in Nepal.