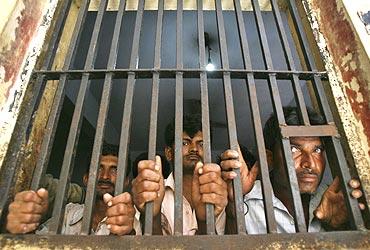 Pakistan on Monday released 100 Indians, the first batch from the 442 Indian fishermen languishing in a jail in Karachi, after rights activists fought a legal battle in the Pakistani Supreme Court against their unlawful detention.
The first batch of 442 Indian fishermen to be freed from Pakistani prisons was released from Malir Jail in the southern port city of Karachi on Monday, rights activists said.
The fishermen were all arrested and convicted for illegally entering Pakistani waters.
A group of 100 fishermen emerged from the jail at 8 am and began their journey to the eastern city of Lahore, said B M Kutty, a representative of the NGO Pakistan Institute of Labour Education and Research, which works for the release of prisoners.
"The fishermen will reach the Wagah land border at 10 am on Tuesday so that they can be repatriated to India," Kutty told PTI.
The fishermen are travelling to Lahore in two buses with a 20-strong police escort. There were emotional scenes as the fishermen came out of the jail to be greeted by members of Pakistan Institute of Labour Education and Research and Pakistan Fisherfolk Forum, which had filed a petition in the Supreme Court seeking the release of all fishermen who have completed their prison terms.
Many of the fishermen embraced members of the two NGOs and thanked them for campaigning for their release.
Most of the fishermen had been detained for up to three years even after completing their sentences ranging from six months to a year.
All the fishermen freed on Monday were presented an 'ajrak' or Sindhi cotton shawl by the NGOs as a gesture of goodwill. Kutty presented the first ajrak to Kanti Lal, a fisherman from Gujarat who has emerged as a leader of the Indians held in Malir Jail.
Kanti Lal, who was given a six-month sentence for illegally entering Pakistani waters, was detained for three years after completing his term.
Former law minister Syed Iqbal Haider, who represented the petitioners in the Supreme Court, Justice (retired) Nasir Aslam Zahid, a member of the India-Pakistan judicial commission on prisoners and other rights activists visited Malir Jail to meet the fishermen.
Three more batches of Indian fishermen will be freed from jails in Sindh province on September 2, 4 and 6.
Several NGOs are supervising the travel of the fishermen and their handing over to Indian authorities at Wagah. The Prisoners Welfare and Legal Aid Office run by Nasir Aslam Zahid will bear the travel expenses of the fishermen.
Pakistani authorities issued orders for the release of the 442 fishermen on August 28 after the NGOs filed the case in the Supreme Court.
At the last hearing on August 26, the apex court asked the federal interior ministry to explain why 456 Indian fishermen were being held in several jails in Sindh even after they had completed their prison terms.
Image: Indian fishermen stand detained in the lockup of a Karachi police station on April 14, 2010.
Photograph: Athar Hussain / Reuters