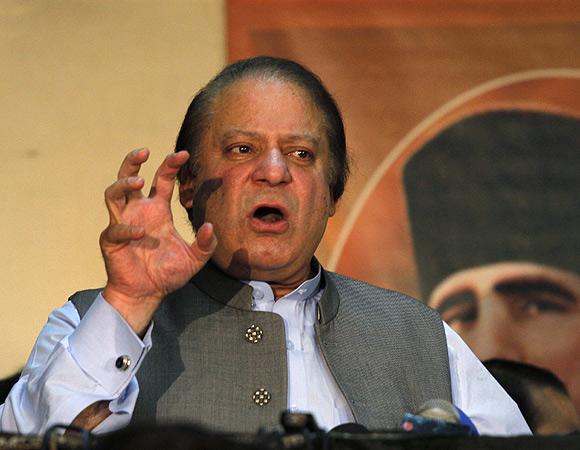 Lahore Police on Friday finally registered a murder case against Pakistan Prime Minister Nawaz Sharif, his brother Shahbaz, key cabinet members and senior officials for their role in the killing of 14 supporters of Tahir-ul Qadri in the city, meeting a major demand of the fiery cleric.
Although minister and close aide of the prime minister, Pervaiz Rashid on Thursday made it clear that the government would not register the FIR against the premier and others unless Qadri ended his sit-in in Islamabad, on Friday on the Lahore High Court's order the police had to register the murder case against 21 persons.
"The FIR has been registered on the order of the LHC," Punjab police spokesperson Nabila Ghazanfar confirmed to PTI.

She said the FIR had been registered on Qadri's PAT application under murder and other charges.

Pakistan Awami Tahreek head Qadri has rejected the FIR saying the section 7 Anti-Terrorism Act had not been included in it as the PAT's application had this section.
"Unless the Sharifs and others are booked under terrorism charges we will not accept this FIR," he said.
The FIR No 696 has been registered against 21 persons, including Premier Sharif, Punjab Chief Minister Shahbaz Sharif, his son Hamza Shahbaz, Interior Minister Chaudhry Nisar Ali, Defence Minister Khawaja Asif, Information Minister Pervaiz Rashid, Railways Minister Saad Rafique, State Minister Abid Sher Ali (also a relative of Sharifs), former Punjab law minister Rana Sanaullah and those senior police officers who took part in the operation.
A source in ruling PML-N said Premier Sharif after consulting his brother today morning gave a go-ahead to Inspector General Police Punjab Mushtaq Sukhera to register the FIR to meet the demand of Qadri to defuse the crisis.

"After registration of the FIR, Qadri will have no justification to continue with his sit-in along with his thousands of supporters in Islamabad," the source said.

Fourteen people including two women were killed and 100 suffered bullet injuries when police raided the house and offices of Qadri in ModelTown on June 17 in a bid to remove barriers from there.
The sessions court had ordered registration of the FIR on Qadri's Pakistan Awami Tahreek.
Three federal ministers (named in the FIR application) challenged the decision in the LHC but it upheld the lower court's decision.
The filing of murder charges is the first major concession by the government and a sign of its increasing vulnerability to the threats by Qadri and Pakistan Tehreek-i-Insaf chairman Imran Khan, who is protesting against alleged rigging in last year's general election.
Political stalemate has continued for the last two weeks with Khan's PTI and Qadri's PAT refusing to budge from their demand for the prime minister's resignation.
The protesters have been sitting in front of the Parliament House and the Supreme Court building since August 19, demanding Sharif's resignation.