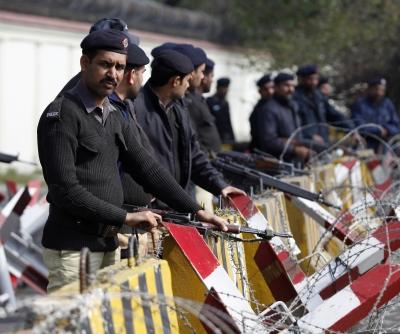 Security has been beefed up across Pakistan to fend off a looming threat by Taliban to launch the "biggest attack" on some unspecified important installation, officials said on Monday.
Joint teams of commandos from the army, navy and air force went into action on Sunday and took control of important facilities like the Benazir Bhutto International Airport in Rawalpindi and several key sensitive security buildings in Islamabad.
Elite police units were deployed at prisons, the parliament building, diplomatic enclave, five-star hotels and other key places in the capital frequented by VVIPs. "It is the highest level of security in the country," Islamabad Police chief Sikandar Hayat said.
Security was ratcheted up after credible reports that Taliban militants were planning to storm some key building and take people hostage.
An intelligence official said militants emboldened by last week's attack on Dera Ismail Khan jail, during which 252 prisoners escaped, wanted to created an even bigger impact with a high-profile attack.
"The secret communication revealed that, apart from other potential targets, the militants want to storm some airport, occupy passenger lounges and even destroy aircraft," the official said.
The army and police personnel have been combing the thickly forested Margalla Hills overlooking Islamabad since Sunday, city police chief Hayat said.
"We have a very specific threat this time and our forces are searching the hills," he said. He confirmed that there were reports the militants could attack some "sensitive" buildings in Islamabad.
Hayat did not specify the targets but the President Asif Ali Zardari and Prime Minister Nawaz Sharif's house and secretariat, parliament, diplomatic enclave, non-government organisation offices, five-star hotels and banks could be on the hit list of the rebels, sources said. Another police official said no arrest had been made so far. Security has also been increased in other cities.
The threat emerged after a global warning of possible Al Qaeda attacks, which forced the United States and Western nations to temporarily close their missions in some countries.

Image: Police officers stand guard in Lahore
Photograph: Mohsin Raza/Reuters