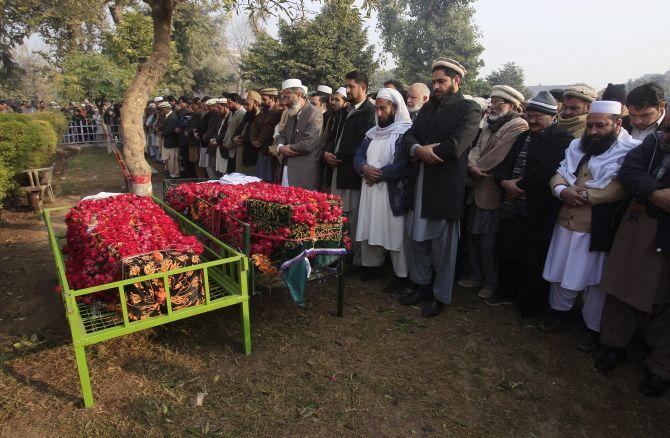 People attend funeral prayers for two students who were killed in a Taliban attack on the Army Public School in Peshawar. Photograph: Fayaz Aziz/Reuters
A shocked Pakistan on Wednesday began three days of national mourning as mass funerals got underway for over 140 people, mostly children, massacred by Taliban suicide attackers in horrendous terror attack on a school here.
All educational institutions were closed in the restive Khyber-Pakhtunkhwa, of which Peshawar is the capital, in the aftermath of the tragedy that has shaken the world.
The national flag was flying at half-mast due to three days of mourning announced by Prime Minister Nawaz Sharif.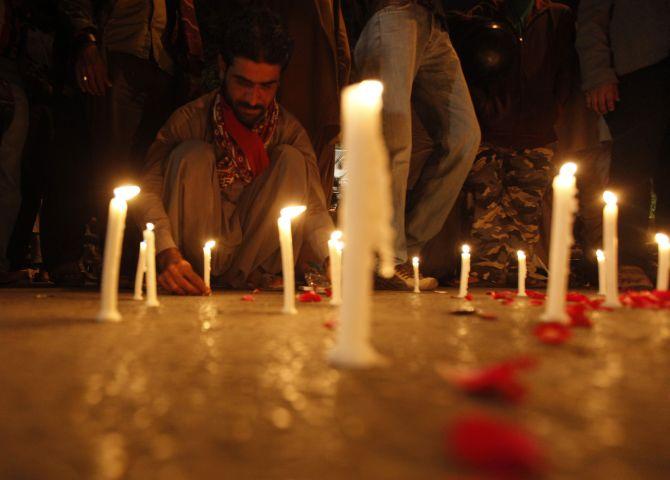 A man lights candles to mourn the victims from the Army Public School in Peshawar, which was attack by Taliban gunmen, in Karachi. Photograph:Akhtar Soomro/Reuters
In rest of the country, most of the schools were open where silence was observed during the morning gatherings.
Candle-lit vigils were observed in different cities, including the twin cities of Islamabad and Rawalpindi, to condemn the attack and express sympathy with the bereaved families.
Mass funeral got underway and people from all walks of condemned the attack. Politicians also joined hands to stand up against terror. A large number of people attended the funeral prayers.
The Taliban said the attack was revenge for a military offensive against their safe havens in the northwest, along the border with Afghanistan, which began in June.
The terror act had brought condemnation even from the close allies of the Tehreek-e-Taliban who claimed responsibility of the attack.
Women mourn their relative Mohammed Ali Khan, 15, a student who was killed during an attack by Taliban gunmen on the Army Public School, at his house in Peshawar. Photograph: Zohra Bensemra
Afghan Taliban spokesman Zabiullah Mujahid in a statement said that his group sympathised with the victims.
These militants seldom in the past issued a statement over the attacks in Pakistan.
Pakistan Taliban militants led by Mullah Fazlullah consider Mullah Omer, chief of Afghan Taliban, as their supreme leader.
At least 148 people, including 132 students, were brutally killed by militants who stormed the ArmyPublic School on Tuesday.
Gunmen had walked from class to class shooting students in the Pakistani Taliban's deadliest attack to date.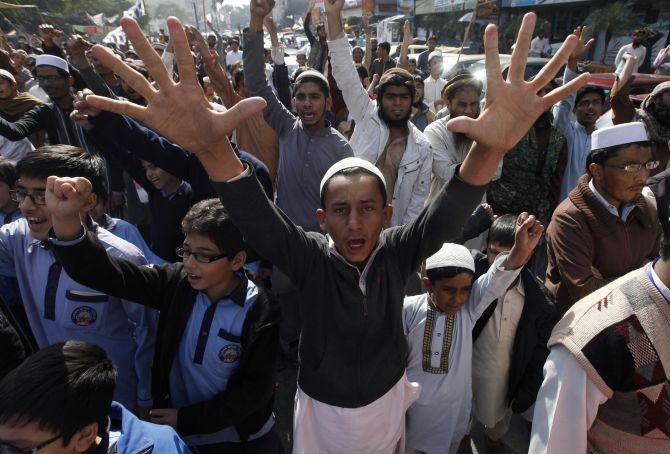 People chant slogans to condemn Tuesday's attack on the Army Public School in Peshawar, during a rally in Karachi. Photograph: Akhtar Soomro/Reuters
Prime Minister Sharif announced an end to the moratorium on the death penalty for terrorism cases, which correspondents say is a move aimed at countering a view held by many Pakistanis that many terror suspects end up evading justice.
World leaders have also voiced disgust at the attack.