Justifying the security extended to separatist leaders of Kashmir Valley, Union minister Jitendra Singh has said that they faced threat from Pakistan which might attack them to blame it on India.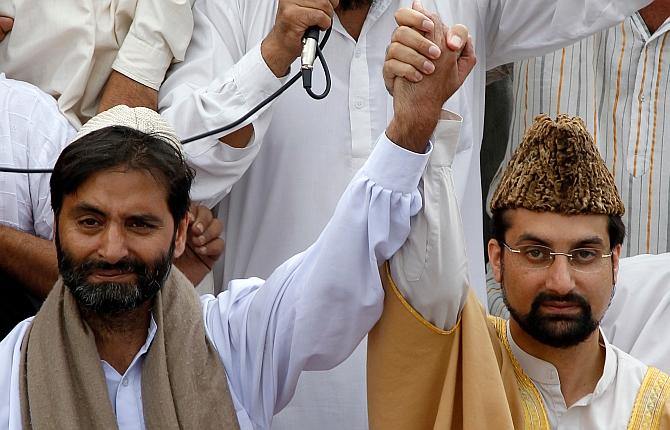 Singh said the Kashmir unrest was first such turmoil in the world in which number of the civilians injured are more or less equal to those in security forces and policemen. It clearly shows how much restraint the security personnel exercised.
He said as soon as the situation improves, there is a need to engage with the youth of the state.
"We keep blaming Mehbooba (Mufti, Chief Minister), but miss the sight of those forces engaged in it. Pakistan and separatists are a threat," he said at a function organised by Sanjeevni Sharda Kendra in Jammu.
"Pakistan is not only threat to us but also to separatists as well. Separatists have no threat from us (India) but from Pakistan," he said.
Justifying their security given by the government, Union Minister said "why security has been given to them, because Pakistan backed people will kill them blame us (India)".
"What has happened to Moulvi Farooq... what has happened to Abdul Gani Lone... They have fear and threat from their own people," Singh said.
The Union minister further said that Pakistan has a threat from Pakistan itself. "See what is happening in Peshswar... What is happening in Balochistan."
"Pakistani is trying to engineer terrorism selectively. These forces who have upped its ante fear from their own people. We have to prepare ourselves," he said.
On the situation in Kashmir, he said, "We will have to move forward on three basic ideologies (sidhant). First, there will be no compromise with violence whatever may be the aim of violence, violence is a violence and we have to put an end to circle of violence and it has no place in the society and all political parties agree to it."
"Second, as the situation will improve there is a need to engage with the youth of the state and the beginning of chain of several schemes by the government headed by Prime Minister Narendra Modi for last two years. The youth of the country are taking benefit of these and we do not want that the youth of Jammu and Kashmir are deprived of it. The youth of Kashmir valley also wants to become stakeholder of the journey of development but due to some reasons they are not fully coming forward," he said.
"And third, there should be no premium on anti-India activism. It should not look that if someone raises anti-India and pro-Pakistan slogans, I will get glorification", he said. Asked about Prime Minister Narendra Modi's statement that Pakistan manufactured terrorism, Singh said, "Certainly, PM is reiterated this more than once and now the entire world is coming round to this view point that Pakistan indeed is the epicenter of the terrorism."
"Pakistan from where the terrorism is exported not only to India but to the rest of the region. Pakistan continues to remain in denial mode and does not realise this sooner or later Pakistan is itself going to be at the receiving end of this terrorism because this misplaced approach of differentiating between good terrorism and bad terrorism and selectively using terrorism to settle scores with adversaries does not work," he said.
On the Kashmir violence, he said, "For the first time, the number of injured on one side has been more or less equal to the numbers of security forces and police. This has happened for the first time history. Why don't they (political parties and civil society) tell it. Why is the media is not writing?"
He said, "It (more injuries to security forces) is you (government) who have put a ban on your security forces and
now the situation has reached such a stage wherein one solider tells other that don't fire, you will be booked for murder and your career is spoiled."
"Nearly 6000 civilians have been injured as per official figures, few hundreds below than that the number of security forces and police personnel. It is because they (security force and police personnel) are exercising full restraint", he said.
"I know question are being raised on Burhan's killing. I known how much preparation and hardworking has gone into that operation. Our forces have capability to take right decisions. We should refrain from doing politics on security issues," he said.
Image: Kashmiri separatist leaders Mirwaiz Umar Farooq (right) and Mohammad Yasin Malik, Photograph: Reuters
© Copyright 2022 PTI. All rights reserved. Republication or redistribution of PTI content, including by framing or similar means, is expressly prohibited without the prior written consent.