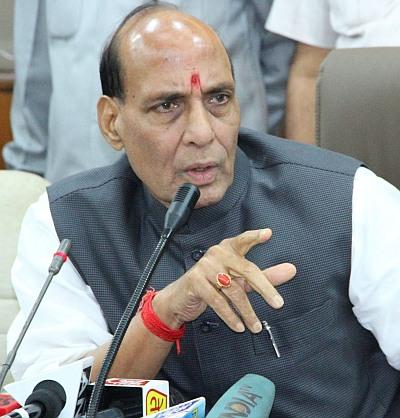 Asserting that he was deeply distressed at the terror attack in Uri, where 17 Indian Army soldiers were killed, Union Home Minister Rajnath Singh on Sunday hit out at Pakistan branding it as a 'terrorist state', adding that he was disappointed by Islamabad's continued support to terrorism and terrorist groups.
Rajnath, who chaired a high-level meeting at his residence over the terror attack, stated that he has apprised Prime Minister Narendra Modi regarding the deliberations of the security review meeting.
Praying for the speedy recovery of the injured, Rajnath expressed his condolences to the families of the slain soldiers, assuring that those behind the terror incident would be brought to justice.
Branding Pakistan as a 'terrorist state' and stating that it should be identified and isolated as such, the home minister added that there are definite and conclusive indications that the perpetrators of Uri attack were highly trained, heavily armed and specially equipped.
"I am deeply disappointed with Pakistan's continued and direct support to terrorism and terrorist groups," he said in a series of tweets.
Meanwhile, condemning the terror attack as well, Prime Minister Modi assured the nation that those behind the 'despicable' attack will not go unpunished.
"We salute all those martyred in Uri. Their service to the nation will always be remembered. My thoughts are with the bereaved families," the Prime Minister said in a series of tweets.
Stating that he has spoken to Rajnath and Defence Minister Manohar Parrikar on the situation, he added that the latter will go to the Valley himself to take stock of the situation.
Earlier, the army said in a statement, that a group of heavily armed terrorists targeted the rear administrative base of a unit at Uri today early morning, and in the counter action, four terrorists were eliminated and combing operations are in progress.
"The administrative base had large strength of troops of units turning over after their tour of duty who were stationed in tents/temporary shelters which caught fire, and resulted in heavy casualties. We salute the sacrifice of 17 soldiers who were martyred in the operation," the statement added.
After postponing his forthcoming visits to the United States and Russia in the wake of the encounter in Uri, Jammu and Kashmir, Rajnath has instructed Home Secretary Rajiv Mehrishi and other senior officers in the Ministry of Home Affairs to closely monitor the situation in the Valley.