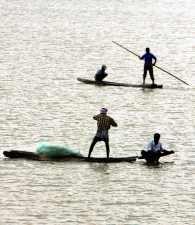 Amid the heightened security in Gujarat in wake of intelligence reports of terrorists sneaking from Pakistan, the Pakistani Marine Security Agency captured five Indian boats along with 30 fishermen on board off the Gujarat coast.
According to reports, two boats are from Okha and three from Porbander.
The boats were captured by the Pakistani marines from International Maritime Boundary Line in the Arabian Sea off the Jakhau coast.
Pakistani Marines has so far captured around 57 Indian fishing boats with more than 340 fishermen since October last year.
Meanwhile, National Security Guard teams have been deployed in the state as Maha-Shivratri is being celebrated with security being heightened at vital installations, including Somnath temple in Gujarat.
"We got the input yesterday after which all the police across Gujarat was alerted. There are continuous combing operations and several check posts have been set up. We are searching for suspects involved in different activities and every possible protective measure is being taken," Gujarat Director General of Police PC Thakur told the media in Ahmedabad.
He added that four NSG teams have been deployed in the team so far in which three squads are in Ahmedabad and one in Somnath.
Appealing to the people of Gujarat that they should not panic, Thakur assured that the security forces are ready to counter the situation.
Earlier, the Pakistan's NSA informed that these are fidayeen from the Lashkar-E-Tayiba and Jaish-e Mohammed cadres.