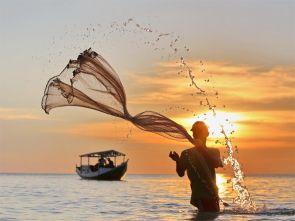 At least 38 Indian fishermen have been arrested by Pakistan maritime officials for allegedly violating territorial waters in the Arabian Sea, police said on Thursday.
Pakistan Maritime Security Agency arrested the fishermen on Wednesday and seized seven of their boats from the open sea in the unmarked territorial water in the Arabian Sea near the port city of Karachi.
The fishermen were later handed over to police, a police official said, confirming the arrest.
"They are being charged with illegally trying to enter Pakistan through sea," said the official.
Pakistan and India regularly arrest the rival fishermen in the disputed waters as the maritime border in the Arabian Sea is poorly defined.
The arrested men usually languish in jails for months and are often released at so-called important occasions like bilateral visits of top leaders.
Pakistan set free 151 Indian fishermen when Prime Minister Nawaz Sharif visited New Delhi last year to attend the oath-taking ceremony of Prime Minister Narendra Modi.