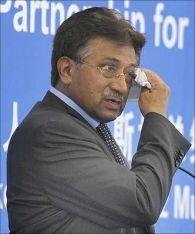 Pakistan's Supreme Court on Monday overturned a High Court ruling to lift a travel ban slapped on Pervez Musharraf last year, a setback to the former military ruler facing multiple trials including one for high-treason.
The Sindh High Court in a judgment of June 12 had allowed 70-year-old Musharraf to leave the country if its decision was not challenged in the superior court within 15 days.
A five-judge larger bench of the apex court headed by Justice Nasirul Mulk accepted the government's petition to retain his name on Exit Control List.
In its appeal before the Supreme Court, the government maintained that Musharraf is the only accused in the treason case and there are other pending cases against him in courts, thus his name should not be removed from the ECL.
The appeal stated that Musharraf should not be allowed to leave the country until cases against him are decided.
The Supreme Court then suspended the orders of the Sindh High Court until final adjudication of the petition.
Musharraf, who returned to Pakistan in March last year ahead of the general elections ending his over four-year self-imposed exile, has faced multiple trials including one under the high-treason act for which he was placed under house arrest and barred from travelling abroad.
He is facing treason trial for abrogating the constitution in 2007 when he declared emergency.
Musharraf is also facing trial in the murder cases of former prime minister Benazir Bhutto; former chief minister of the southwestern Baluchistan region Nawab Akbar Bugti and Red Mosque cleric Abdul Rasheed Ghazi.
Musharraf had filed a petition in the court to remove his name from the ECL so that he can visit his ailing mother in the UAE.
Musharraf, the first military ruler in Pakistan's history to be tried in court, has rejected all the charges levelled against him, including treason.
If convicted, he can get death penalty. His trial had put the civilian leadership at odds with the military.
The government opposed the petition saying he could abscond if allowed to travel abroad.