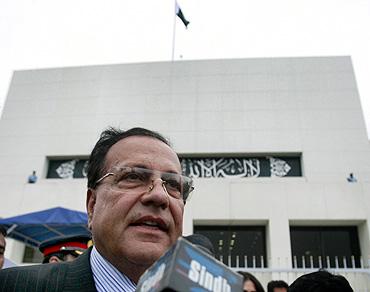 Pakistan's Punjab Governor Salmaan Taseer, an outspoken leader of the ruling Pakistan People's Party, was on Tuesday assassinated by one of his security guards in a gun attack at a market in the heart of Islamabad.
Taseer was getting into his car at Kohsar Market in Islamabad's posh Sector F6/3 area when the guard from the elite force of Punjab police shot him with an automatic weapon at a close range, officials said.
The governor was rushed to the Polyclinic Hospital where he succumbed to his injuries, his spokesman Farrukh Shah said.
Officials said Taseer was hit by at least nine bullets and sustained severe injuries to the neck and the chest. Doctors made an unsuccessful attempt to revive him before declaring him dead.
The police arrested the guard and took him to an undisclosed location. Six other persons were also detained by the police at the market.
Image: A file photo of Salmaan Taseer | Photograph: Reuters