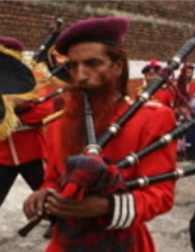 Pakistani prisoner Sanaullah Ranjay, who was injured in a scuffle with another inmate in a Jammu jail, remained critical at the Post Graduate Institute of Medical Education and Research in Chandigarh. The prisoner is on ventilator and in deep coma, hospital sources said. Sanaullah was airlifted from Jammu to PGIMER on Friday evening.
Fifty-two-year-old Sanaullah is being looked after by a team of doctors, including neurosurgeons, in the intensive care unit. A team of Pakistani High Commission officials, which visited Sanaullah, a resident of Sialkot in Pakistan, at PGIMER on Saturday, is expected to meet the doctors again to seek a fresh update on his condition.
PGIMER in its update on the his condition had on Saturday night said, "The patient had metabolic alterations and coagulation abnormalities, which are being taken care of by concerned specialists and these are gradually being controlled, though they are not totally normal. His blood pressure had been going down, so a third vasopressor had to be added (yesterday)". Upon his arrival here, PGIMER said Sanaullah was checked by neurosurgeons at the Jammu hospital, where he was first rushed to after the attack on him, "who detected head injuries with a large fracture. CT scan showed multiple contusions with severe brain edema (brain capillaries damaged due to head injury)."
Sanuallah is serving a life term after being convicted under
Terrorist and Disruptive Activities (Prevention) Act provisions following his arrest in 1999. Two prison officials, including Jail Superintendent Rajni Sehgal, had been suspended by the Jammu and Kashmir government in connection with the assault.
Later, the Pakistan high commission said in a release that the doctors have conveyed to them that they will wait 48 to 72 hours trying to stabilise the patient before taking a decision on any major medical intervention. The release said that Sanaullah's status/condition is unchanged since his arrival in the ICU and he continues to be critically sick.

Image: TV grab of Pak prisoner Sanaullah Ranjay