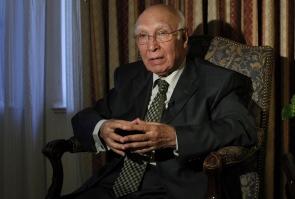 Sartaj Aziz, Pakistan Prime Minister's Adviser on Foreign Affairs has blamed India for allegedly "creating hurdles" in the way of process to normalise the relations between the two countries.
Addressing a event specially organised by the British think tank, Chatham House and supported by Pakistan high commission in London on Monday, he shed light on the challenges and problems being experienced by his country.
"Pakistan is suffering due to geopolitical developments in the region. India's policy towards Pakistan is not positive and that is the only reason that Line of Control could not be peaceful. Pakistan's relations with India and Afghanistan are in fact very complicated and despite Pakistan's earnest efforts, these could not be materialised and relations are still not normal", The Nation quoted him as saying.
Aziz asserted that New Delhi has not reciprocated positively to Pakistan's efforts towards resumption of comprehensive dialogue between the two countries and the issue of terrorism was a part of comprehensive dialogue.
"We want to resume talks with India, and the issue of RAW should be discussed in dialogues between Pakistan and India instead of on media", he stated.
Aziz also confirmed that Indo-Pak talks have been suspended due to certain factors and not be ended for good and also referred to Kashmir issue on various occasions.
Presenting his viewpoint on arrest of Kulbhushan Yadav which Pakistan alleged as Indian 'operative', he said that no definite comments could be made as investigations are underway.
Commenting on the situation in Afghanistan, he said that Pakistan has no favourites in the neighbouring country and that Taliban have been defeated but was still offensive.
Aziz is on three-day visit to United Kingdom for the third review of Pakistan-UK Enhanced Strategic Dialogue. According to the Foreign Office, the adviser will also participate in the meeting of the Commonwealth Ministerial Action Group.