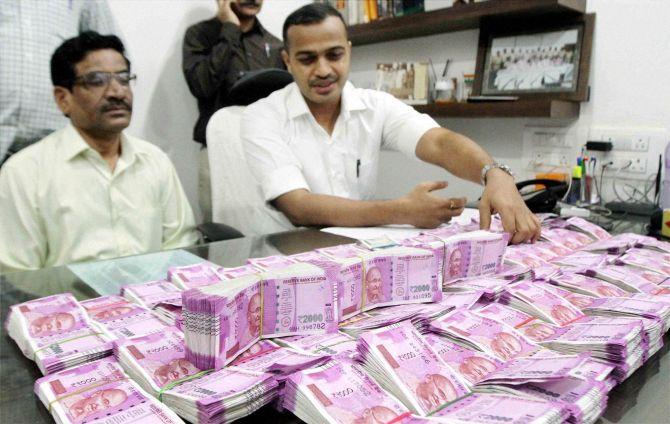 A Pakistani national was on Wednesday arrested and fake currency notes of scrapped Rs 500 with a face value of Rs 50,000 were seized from him at Surat Railway station, police said.
According to police, the accused, identified as Burhanuddin Sajjad, 45, had entered India on a valid tourist visa and had obtained the fake notes from Pakistan.
Police seized 100 fake notes of old Rs 500 denomination from Burhanuddin, who first claimed to be a Mumbai resident, when he was apprehended at Surat Railway station in the morning by Railway Protection Force. He was later handed over to Government Railway Police for further investigation.
"Later, during his primary questioning and frisking, police recovered his Pakistani passport, which confirmed his nationality," Western Railway Superintendent of Police, Vadodara division, Sharad Singhal, said.
"Burhanuddin's passport confirmed that he is a Pakistani national and not a resident of Mumbai. Stamps on his passport suggested that he entered India via Attari border in Punjab on December 12 and then headed to Mumbai by a train. We recovered 100 fake notes of old Rs 500 currency. We also found three notes of $100 (Rs 6,800) with him," Singhal said.
"Burhanuddin came to India on a valid tourist visa, which has not expired. He told us that he had acquired these fake notes from Pakistan. We will seek his remand from court to investigate his intentions to visit India with such fake notes," said Singhal.
"RPF jawans spotted Burhanuddin loitering suspiciously on platform number one of Surat railway station while traveling to Mumbai," Surat GRP Sub Inspector M R Malek said.
"When RPF jawans searched his luggage, they found 100 bills of now defunct Rs 500 currency notes. When checked by the ticket counter staff, these notes turned out to be fake," he said.
Meanwhile, Kutch district police nabbed two persons with 119 fake currency of new Rs 500 notes, which they had allegedly printed at their office in Madhapar village on the outskirts of Bhuj town and intended to circulate in the market.
Based on a tip off, Local Crime Branch raided the office of 'Rutvi Group of Companies' at Madhapar late on Tuesday night and busted a racket of printing fake currency of new Rs 500 notes, a release by Kutch-West LCB said.
While searching the office, police found 119 fake notes of Rs 500 having total face value of Rs 59,500. The arrested accused were identified as Chirag Chauhan and Bachubha Jadeja, both residents of Bhuj.
Investigation revealed that the duo had printed these notes using a colour printer at their office and wanted to circulate these notes, the release said.
*****
Rs 67 lakh cash seized from car in Pune
City police seized Rs 67 lakh cash, of which Rs 62 lakh were in new Rs 2,000 denomination notes, from five people travelling in a car in Wakad locality near here in the wee hours on Wednesday.
A senior police officer attached to Wakad police station said 3,110 notes of Rs 2,000 denomination worth Rs 62.20 lakh and 4,800 notes of Rs 100 worth Rs 4.80 lakh were seized.
"During patrolling, our police personnel spotted a car in Wakad area in the wee hours. As the five occupants of the car were suspicious-looking, the police team searched the vehicle and found the cash inside," the officer said.
When the policemen questioned them, all the five people started giving evasive answers, he said.
"We recovered the cash and the Income Tax department has been alerted," the officer added.
*****
Rs 9.5 lakh in new notes seized, three detained in Gurugram
Three persons were detained on Wednesday after Rs 9.5 lakh in denomination of Rs 2,000 notes was recovered from their car near Jamalpur intersection in Gurugram, police said.
"After a tip-off, a team intercepted their car at the intersection when they were going from Delhi to Gurugram. Rs 9.5 lakh in Rs 2,000 notes was found in the vehicle," a senior police officer said.
The police has detained Monu Yadav, a resident of Rajokari; Jaiprakash, a resident of Kasoli; and their friend, Naveen, a resident of Boharakala in Haryana.
The Income Tax department has been informed about the matter and they are probing the case, police said.
*****
Delhi police recovers over Rs 64 lakh
Police on Wednesday raided a real estate agent's house in southwest Delhi's Chhawla area and recovered Rs 64,84,000 in old and new currency and jewellery worth over Rs 1 crore.
On the basis of a tip-off, a joint action team of Income tax and Inter State Crime Cell of Crime Branch carried out a raid at the house of Sukhbir Shokeen, police said.
"Unaccounted cash amounting to Rs 64,84,000 was found. Out of it, Rs 11,34,000 was in the form of Rs 2000 notes. Besides, jewellery valued at Rs 1,06,57,235 has been found. Further enquiries are in progress by the IT department," said a senior police officer.
Survey proceedings are also being carried out at the office premises of his company's office at Rangpuri, he added.
IMAGE: Crime branch police displays seized currency of Rs 1.04 crore in new notes. Three persons were also detained in this connection. Photograph: PTI Photo