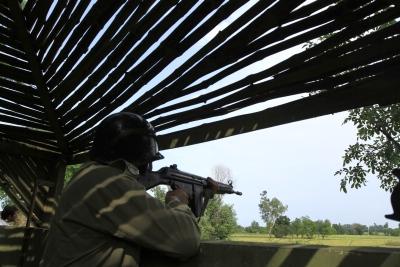 A Pakistani paramilitary soldier keeps guard inside a bunker at the Pakistani border town of Dhamala Hakimwala near Sialkot. Photograph: Faisal Mahmood/Reuters
Pakistan is in illegal and forcible occupation of about 78,000 sq kms of Indian territory in Jammu and Kashmir since 1948, the Lok Sabha was informed on Tuesday.
Minister of State for Home Kiren Rijiju said that under the so-called China-Pakistan boundary agreement of 1963, Pakistan illegally ceded 5,180 sq kms of Indian territory in Pakistan occupied Kashmir to China.
Rijiju said as regards the Indo-China border, there is no commonly delineated Line of Actual Control in the border areas between India and China.
From time to time, on account of differences in the perception of the LAC, situations have arisen on the ground that could have been avoided had there been a common perception of the LAC, he said.
The minister said there is no illegal occupation of territory by Bangladesh, Myanmar and Bhutan. However, he said, in case of Indo-Bangladesh border, there have been pockets that have traditionally been under the possession of people of one country in the territory of another country and these are known as 'adverse possessions.
"The government remains continually vigilant and is firm in its resolve to take all necessary steps to effectively safeguard India's security and territorial integrity," he said.
"As regarding the Indo-China border, government regularly takes up any transgression along the LAC with the Chinese side through established mechanism including border personnel meetings, flag meetings, meetings of working mechanism for consultation and coordination on India-China border affairs and diplomatic channels," he said