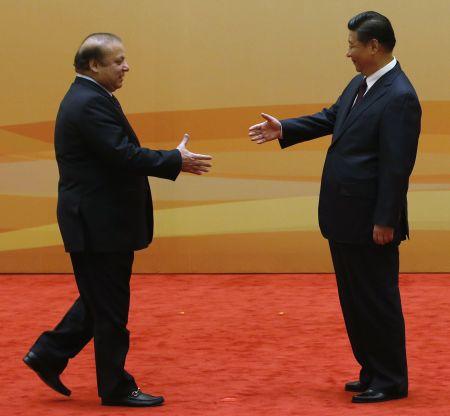 Chinese President Xi Jinping will arrive in Islamabad on Monday on his maiden visit to Pakistan during which the two sides will sign several agreements, including defence, worth USD 50 billion that will stabilise Pakistan's cash-strapped economy and expand the Communist giant's influence in India's neighbourhood.
A fleet of eight JF-17 Thunder fighter jets -- jointly made by the two countries -- will escort the Chinese president once his plane enters the Pakistani airspace. A red-carpet welcome will be accorded to Xi who has chosen Pakistan his first destination for foreign trip in 2015 after cancelling his previous trips.
The foreign office said that Xi will meet President Mamnoon Hussain and hold official talks with Prime Minister Nawaz Sharif. He will also meet the chiefs of three services and address a joint session of parliament.
President Xi, also the General-Secretary of the ruling Communist Party, will be conferred the 'Nishan-e-Pakistan', the highest civilian award, at a special ceremony. "Both countries would conclude a number of important Agreements/MoUs relating to key development projects in the infrastructure, energy, and communication sectors under the ambit of the China-Pakistan Economic Corridor," the foreign office said without giving details.
An official of the finance ministry told PTI that agreement and MoUs of about $50 billion are expected to be signed under the China-Pakistan Economic Corridor.
China has decided to go ahead with the ambitious project despite serious security concern in its restive Muslim-dominated Xinjiang as well as the Taliban threat in Pakistan.
The corridor, regarded as the biggest connectivity project between the two countries after Karakorram highway built in 1979, is a centerpiece of China's ambitions to shorten the route for its energy imports from the Middle East.
The 3,000-km long corridor linking China's far-western region to Pakistan's south-western Gwadar port on the Arabian Sea through Pakistan-occupied Kashmir is massive project of road, rail, energy schemes, pipelines and investment parks.
In the short-term plan, energy projects of about $35 billion are being planned for execution. It is being planned to operationalise these projects by 2018 to create about 10, 400 MW of electricity.
Another $11 billion will be invested on infrastructure projects. Providing an outline of the corridor project, China played down India's concerns that it is being laid through the PoK and said that it is a commercial project.
"The project between China and Pakistan does not concern the relevant dispute between India and Pakistan. So I do not think that the Indian side should be over concerned about that," Assistant Foreign Minister Liu Jianchao said last week.
A defence agreement worth $4-5 billion to provide eight latest submarines is also expected to be signed, more than doubling Pakistan's fleet.
The submarines would help enhance Pakistan's naval power, a move that could raise India's concern.
Xi will also perform the ground-breaking ceremony of several infrastructure projects, including a $44 million cross border fiber optic data communication system project, a digital terrestrial multimedia broadcast pilot project at Murree, $1.4 billion Orange Line Mass Transit project in Lahore and a cultural centre in Islamabad.
In addition, he will also inaugurate a small and medium hydro research centre and the Pak-China FM radio channel, the 720 MW Karot hydropower project, a 200 MW wind power project and the 900 MW Zeonergy Solar Power Project Bahawalpur.
Other projects including construction of $2.6 billion Multan-Sukkur section of the Karachi-Lahore Motorway, $920 million Thakot-Havelian section of Karakoram Highway Phase-II, $230 million Gwadar Eastbay Expressway and $140 million GwadarInternationalAirport project will also be signed.
Four key projects to create an operational connection between China's eastern provinces and GwadarPort will be inked. A land lease deed for GwadarPort and Gwadar Free Zone will be signed between China Overseas Port Holding Company and Gwadar Port Authority.
A framework agreement between Pakistan and China for Gwadar-Nawabshah gas pipeline and Gwadar LNG terminal will be inked as well.
Majority of agreements will be signed in the energy sector and China will extend loans for projects expected to install 7,250 MW of power generation capacity in Pakistan, in addition to two coal-mining projects at Thar.
China also wants to develop a commodity exchange facility at Gwadar and is asking Pakistan to provide land for the projects. Another project for a massive investment park in Balochistan is also under consideration.
"These projects will transform coastal city of Gwadar into a modern international city with all facilities," said the official.
Pakistan also plans to create a strong 10,000-men force to provide security to the Chinese workers and experts. As the two side increase cooperation, they are also negotiating an agreement for exchange of prisoners.
The foreign office said Xi will be accompanied by a large delegation, including First Lady Peng Liyuan, ministers, high-level functionaries of the Communist Party and senior government officials.
The CEOs from a wide spectrum of business houses of China would also be included in the delegation. Xi's trip to Pakistan was put off last September when he visited the Maldives, Sri Lanka and India and later he skipped the March 23 Pakistan National military parade where he was reportedly invited to be the chief guest.
Image: Top: Chinese President Xi Jinping greets Pakistan Prime Minister Nawaz Sharif in Beijing in this photograph taken on November 8, 2014. Photograph: Kim Kyung-Hoon/Reuters