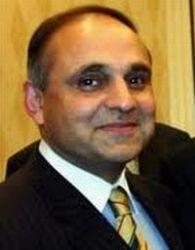 Pakistan has dropped plans to send Syed Ibne Abbas as the new high commissioner to India and instead replaced him with career diplomat Abdul Basit, a top Pakistani official said on Monday.
Basit, 55, was earlier tipped to take over as the foreign secretary but the government had last week changed its mind.
Analysts said the move was possibly to accommodate Basit, the current ambassador to Germany, in the crucial posting.
"Yes, Ibne Abbas is not being appointed to India. Basit will be the new high commissioner to India," the official told PTI.
Current Foreign Office Spokesperson and Additional Foreign Secretary Aizaz Chaudhry is likely to be appointed the new foreign secretary.
However, the official made it clear that a formal notification about Basit's appointment is yet to be made.
Abbas' "agreement" (formal consent for posting) had also been sought from the Indian government. A fresh consent would now be send to the Indian government.
Basit had earlier served as the director general/foreign office spokesperson between 2008-2009 and as additional secretary (Europe)/foreign office spokesman between 2009-2012.
Abbas, a career diplomat who had earlier served as Counsellor (political) at the Pakistan high commission in New Delhi, is likely to replace Basit as envoy to Germany.
He had also served as the director of the Kashmir affairs at the ministry of foreign affairs in Islamabad and was the director general of the South Asia division.
The News daily today said High Commissioner Salman Bashir has been asked to continue for the time being as Punjab Chief Minister Shahbaz Sharif is visiting India this week.
Shahbaz has been invited for the visit by Punjab chief minister Parkash Singh Badal for a Kabbadi final match to be played in Ludhiana on December 13.
He could also visit New Delhi for a brief stay the same day, the report said quoting sources.
It's the fourth change in less than a month with regard to postings of top envoys in world capitals.
Earlier, former Principal Information Officer and noted columnist Kamran Shafi was shortlisted for appointment as Pakistan's envoy to the UK, but he was dropped later.
Shafi is said to be a strong critic of the security establishment.
Basit was earlier designated as the foreign secretary last month to replace Syed Jalil Abbas Jilani, who would become Pakistan's ambassador to the US.
However, he was dropped citing lack of seniority as a reason in his case.
Chaudhry, who was all set to go as Pakistan's envoy to Belgium and the European Union, is now likely to be made the foreign secretary.
Image: Syed Ibne Abbas