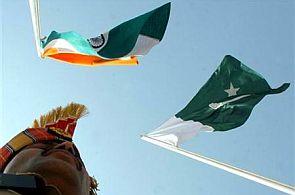 A day after a spat over India's refusal to permit some Pakistani diplomats to watch Pakistan's T20 World Cup matches, New Delhi appeared to relent on Wednesday by stating that it had approved travels of 19 Pakistan High Commission officials and was prepared to consider more such requests.
The remarks by the external affairs ministry spokesperson Vikas Swarup came even as Indian deputy high commissioner to Islamabad J P Singh was called in by the Pakistan foreign office and a demarche was made over denying permission to Delhi-based Pakistan diplomats to travel to Kolkata to witness cricket matches being played by the Pakistan team on Wednesday and on March 19.
Meanwhile, according to Pakistani sources, Pakistan Foreign Secretary Aizaz Ahmad Chaudhry raised the issue with his Indian counterpart S Jaishankar in Pokhra, Nepal where they are attending South Asian Association of Regional Conference meet.
Responding to a query regarding issuance of travel permissions to Pakistan High Commission officials to witness Pakistan's matches in T20 World Cup, Swarup said Pakistan has not informed the Government of the itinerary for the proposed travels, as required by bilateral practice.
"This was despite repeated reminders over the past few days. However, considering the occasion, 19 approvals were issued as a gesture. This has been conveyed to Pakistan Ministry of Foreign Affairs at senior levels. We have urged that agreed requirements are met so that the rest of the requests can be processed," he added.
India, on Tuesday, did not give travel permission to five out of seven Pakistani diplomats because they were seen as having links with "ISI and defence" organisations.
Pakistan is playing Bangladesh in a Super 10 Group 2 encounter at the Eden Gardens in Kolkata on Wednesday.
Pakistan and India will also play at the same venue on March 19.