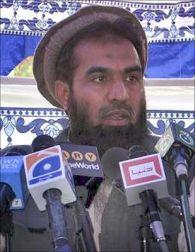 A Pakistani court on Friday rejected the bail plea of Zakiur Rehman Lakhvi, the mastermind of the 2008 Mumbai attack, who has been charged with abducting an Afghan national in 2009.
A lower court here admitted on January 9 Lakhvi's application in the abduction case of Anwer Khan, an Afghan national, registered against him over six years ago, and granted him bail against the surety bonds worth Rs 2,00,000.
His counsel Raja Rizwan Abbasi subsequently filed an acquittal plea in the local court of Navid Khan, who had reserved the judgement after hearing both sides last Monday.
"Khan announced the verdict dismissing the acquittal plea of Lakhvi's," Abbasi told PTI.
He said the Islamabad police had registered a fabricated case against his client and he would challenge the verdict in the high court. Prosecutor Nabil Tabish, however, said the investigation in abduction case was still underway and the First Information Report against Lakhvi could not be quashed till its completion.
According to the FIR, Muhammad Anwar Khan went missing from Thallan Syedan suburb here around six years ago. His brother-in-law Muhammad Daud – the complainant of the case -- accused Lakhvi behind his kidnapping.
Anwar used to visit the Jamat-ud-Dawa office in Bhara Kahu where the group motivated him about Jihad and Lakhvi asked Anwar to get ready for it (Jihad) but he refused. One day, Lakhvi came along with his accomplices at his house and took Anwar with him, according to the FIR.
Daud told the police that he tried several times to contact Lakhvi after his arrest in 2009 but without success. "Only after learning from television that Lakhvi is going to be released and thinking he may go underground, I requested the Islamabad police to take action against the accused for kidnapping Anwar," he said.
The trial court granted bail to Lakhvi on December 18 last year in the Mumbai attack case, following which India lodged a strong protest.
The Pakistani government detained Lakhvi the next day under the Maintenance of Public Order. However, Islamabad High Court suspended Lakhvi's detention on 'weak legal ground'.
Just before he was to be released from Adiala Jail Rawalpindi, Lakhvi was arrested on charges of kidnapping Anwer. Subsequently, a two-member supreme court bench headed by Justice Jawwad S Khawaja had suspended the high court order to end his detention and referred the case back to it for a 'complete hearing' before giving a final decision on his detention.
Lakhvi has been detained in the Adiala Jail under MPO until February 18.
He and six others -- Abdul Wajid, Mazhar Iqbal, Hamad Amin Sadiq, Shahid Jameel Riaz, Jamil Ahmed and Younis Anjum -- have been charged with planning and executing the Mumbai attack in November, 2008 that left 166 people dead.