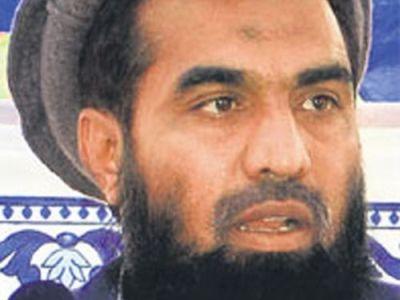 A Pakistani court on Thursday directed the Punjab government to decide "within five days" the detention matter of Lashkar-e-Tayiba operations commander and 2008 Mumbai attack mastermind Zaki-ur Rehman Lakhvi.
Lahore High Court Justice Mahmood Maqbool Bajwa ordered the home department of the Punjab government to decide the detention matter by March 31.
Lakhvi on Wednesday filed a contempt of court petition in the LHC seeking a direction for the state government to decide his detention matter in the light of an order passed by Islamabad High Court.
The IHC on March 13 had suspended the government's detention order for Lakhvi and ordered his immediate release.
Just before his release next day, the Punjab government issued a detention order for Lakhvi for another 30 days under the Maintenance of Public Order.
"After hearing the arguments from the Lakhvi's counsel and a law officer Justice Bajwa disposed off the petition with a direction to the home department (Punjab government) to decide the detention matter of the petitioner within five days," a court official told PTI.
Last week Bajwa had dismissed Lakhvi's petition challenging the Punjab government's decision to detain him for another 30 days (till April 12).
Lakhvi also filed a contempt of court petition in Islamabad High Court against the Punjab government's decision.
"The government has committed contempt by not following the direction of the IHC order. The contempt of court proceedings should be proceeded against the government for violating its order again and again," Lakhvi pleaded.
The Islamabad High Court has summoned Punjab's Interior Secretary and Home Secretary on April 14 in connection with the plea, Lakhvi's counsel Raja Rizwan Abbasi told PTI.
"The high court suspended the government's order to detain his client under the Maintenance of Public Order for the second time. But the government is determined to violate the court's order," Abbasi said.
"We have requested the court to initiate contempt of court proceedings against the government and ensure freedom of his client as he has already been on bail."
On December 18, 2014, the Islamabad Anti-Terrorism Court, granted bail to Lakhvi but he was detained the very next day under the MPO. However, the Islamabad High Court suspended Lakhvi's detention citing weak legal grounds.
Just before he was to be released from Rawalpindi's Adiala Jail, Lakhvi was arrested on charges of kidnapping an Afghan national in 2009. He has been granted bail in the case.
Later, the government challenged the HC's order in the Supreme Court, which suspended its order. He again challenged his detention and got relief from the court on March 13.
Lakhvi and six others have been charged with planning and executing the 2008 Mumbai attack that killed 166 people and wounding over 300.