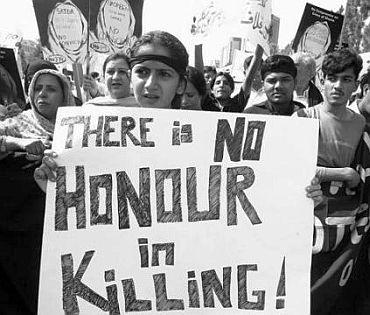 A Pakistani couple has been murdered in Lahore for marrying without their family's consent, the second incident of "honour killing" within a week in the city.
Muhammad Ashraf shot dead his daughter Saba, 22, and son-in-law Karamat, 38, on Friday for marrying without his consent, the police said.
Ashraf, a security guard by profession, also killed Karamat's brother for helping the couple in their marriage. Saba, a resident of Kahna area, eloped with Karamat over a year ago and contracted court marriage.
"On Friday, Saba's father, Ashraf, invited the couple for a dinner. He shot them dead after a heated argument over the issue," a senior police official said. The couple have a three-month-old son.
The police official said that after killing the couple Ashraf went to the house of Karamat's brother and shot him dead before courting arrest. However Usman, another brother of Karamat, claimed that Ashraf had a monetary dispute with his son-in-law
"Ashraf killed my brothers and his daughter over a money dispute," he claimed.
Ashraf confessed to his crime saying he had killed his daughter and son-in-law for digracing the "family honour."
It was the third incident of "honour killing" in Punjab in about a week and the second such incident in Lahore. In the first incident, Maria Sadaqat, 19, was tortured and burnt alive in a village near Murree for refusing to marry the son of the owner of a school where she taught.
In the second incident, Zeenat Rafiq, 19, was set on fire in Lahore by her mother and brother for marrying a man of her own choice.
Police have slapped anti-terrorism sections in the Zeenat murder case. Police have also arrested the brother-in-law of Zeenat, while her brother is absconding.
Pakistan Prime Minister Nawaz Sharif has ordered a comprehensive investigation into Bibi's killing, calling the crime un-Islamic.
Violence against women is common in Pakistan where every year hundreds of women are killed for honour. Nearly 1,100 women were killed in Pakistan last year in so-called honour-killings, the country's independent Human Rights Commission says.
Campaigners say most "honour killings" are not reported in Pakistan.