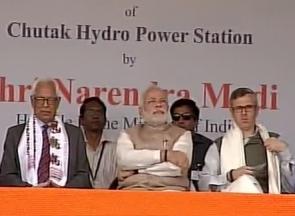 Prime Minister Narendra Modi on Tuesday came out strongly against Pakistan for continuing its proxy war of terrorism against India, saying it has lost the strength to fight a conventional war. Addressing troops of the army and the Indian Air Force on his maiden trip to Leh and Ladakh, Modi condemned the continuing proxy war by Pakistan. "The neighbouring country has lost the strength to fight a conventional war, but continues to engage in the proxy war of terrorism," he said.
The prime minister said the Indian armed forces were suffering more casualties from terrorism than from war. Noting that this is a global problem, the prime minister said all humanitarian forces of the world should unite to fight it.
"India is committed to strengthening and uniting these humanitarian forces," he said. Modi said India was committed to strong armed forces, well-equipped with modern arms and technology.
The jawans should be assured that the entire country supports them, he stressed. The prime minister said soldiers remain undeterred in spite of the many negatives and struggles that their families face in day-to-day life and this energy and sense of duty inspires him and, therefore, he keeps visiting jawans on the border to seek inspiration.
The prime minister said provisions have been made in the Union Budget for modernisation and welfare of the armed forces including 'One Rank One Pension'.
Modi promised the troops that a National War Memorial would be built that would inspire future generations of India. He also told the defence personnel that the government is committed to making India self-reliant in defence manufacturing.
Noting that the country's armed forces deployed in border areas are well-connected with the people who live there, Modi cited the example of the Kargil infiltration, about which the first information was given by a shepherd named Tashi Namgyal.
Before leaving, Modi interacted with the troops and wrote in the visitor's book that peace and security is a pre-requisite for development. Jammu and Kashmir Governor N N Vohra, Chief Minister Omar Abdullah, Minister of State for Power Piyush Goyal, National Security Adviser Ajit Doval and Chief of Army Staff General Dalbir Singh were also present on the occasion.
Later, underlining his government's resolve to fight graft which has "ruined" the country, Modi expressed his willingness to take along people from various parties who have been fighting corruption.
"Corruption is troubling us. People are angry. I assure that we will fight corruption and work with all those against graft. Corruption has ruined the country. I promise that we will fight against corruption with full might," he said addressing a rally here at polo ground.
Modi said the government is willing to take along all anti-corruption forces, political parties and its leaders and honest officer in its fight to end graft. "There are also honest officers. We will work with them too. If we win the fight against corruption we will win battle against poverty," he said after inaugurating Nimoo Bazgo hydro-electric project and Leh-Kargil-Srinagar transmission system.
Dressed in traditional Ladakhi attire, Modi said that the government will do its best to bring a 'kesar' (saffron) revolution in Jammu and Kashmir giving impetus to its production.
"We need to bring a saffron revolution that is giving impetus to kesar. Special attention should be placed to farmers," he said.
"We have put Leh at the focus of our solar energy initiatives. We have to connect every corner of the country through power, rail, road and telecommunication," Modi said.
The prime minister said development must be such that it positively transforms the lives of the common people.
He said three Ps -- Prakash (solar light), Prayawaran (environment) and Paryatan (tourism) are the assets of Jammu and Kashmir and all efforts would be taken for their development.
"We have kept Ladakh at the centre of our solar energy policy. Now you will not live on borrowed power. You will live on your own solar powered electricity," he said.
He said government is planning special projects including large-scale organic farming for the development of all Himalayan states including. "I am fortunate to have worked for the party organisation in Jammu and Kashmir. I used to visit the state often. I know the problems people face and most importantly I know the strength of this land," he said

Modi said there was was a time when PMs never visited this state and he has come here two times already as Ladakh's affection draws him.
Modi spoke of his government's plan to modernise army and the decision to allow FDI in the defence sector as part of that.
"The army should not face resource crunch. Indians should become self sufficient in production of safety equipment. Why should we get safety equipment from abroad. Why can't we make them here. We have FDI in defence. Why should we get technology from outside. We have engineers, technical staff and skilled people. The need of the hour is to plan how to utilise foreign funds in the best way. How to make safety equipment in the best way. We are going ahead in this direction in a systematic way and I am confident we will do what we want," he said.
Modi also referred to the difficulties faced by the troops going home on holiday without reservation in trains, suffering from lack of funds for healthcare of their parents and inability to get admission of their children in good schools.
"But when it comes to the call of duty, the jawan is always willing to take on the enemies despite hardships faced back home. He does not recall that doctor who refused to operate his mother, the school that refused to give admission to his child or about the difficult train travel," he said.
On his first visit to Leh and Kargil, he inaugurated Nimoo Bazgo hydro power project and Leh-Kargil-Srinagar transmission system for the people of Ladakh region. Later, he flew to Kargil where he held out the assurance that his government was committed to the welfare of displaced Kashmiri Pandits, refugees from West Pakistan and kin of those killed in terrorist violence.
"See the condition of Jammu and Kashmir where 20 per cent of the population is displaced. We want to settle these displaced people and give them opportunity of their livelihood," Modi said while inaugurating the 44 MW Chutak hydro-power project in Kargil.
Modi said the Centre was committed to include this 20 per cent population becoming a party in changing the destiny of Jammu and Kashmir.
"More than 2 lakh displaced are refugees from West Pakistan, over one lakh displaced are...more than 4 lakh are Kashmiri Pandits over eight to ten lakh are those who lost their families in terrorist attacks. These are also our brothers and sisters and we have to think about them," he said.
Image: Prime Minister Narendra Modi with Jammu and Kashmir Chief Minister Omar Abdullah. Photograph: ANI
© Copyright 2021 PTI. All rights reserved. Republication or redistribution of PTI content, including by framing or similar means, is expressly prohibited without the prior written consent.