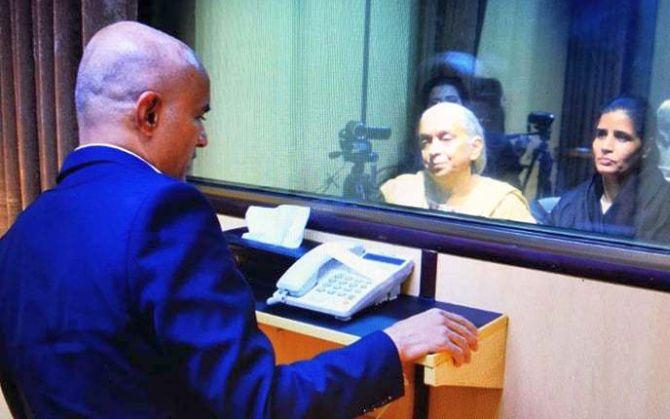 Samajwadi Party leader Naresh Aggarwal on Wednesday kicked up a row by controversially stating that if Pakistan considers Kulbhushan Jadhav a terrorist, it would treat him like one -- remarks the Bharatiya Janata Party dubbed 'betrayal of national interest'.
Aggarwal also hit out at the media, saying why it was only talking about Jadhav when hundreds of Indians were lodged in Pakistani jails.
The comments came in the backdrop of Pakistan treating Jadhav's mother and wife in a humiliating manner.
Pakistan went so far as to have the mangal sutra, bangles and bindi of his mother and wife removed before they met him on Monday.
"What ideology a particular nation follows, it is known only to that nation. If Pakistan considers Jadhav a terrorist, then they will behave with him accordingly," Aggarwal told a TV channel.
"Our nation should also treat terrorists in the same way, in a tough manner. I don't understand why the media is only talking about Jadhav. There are hundreds of Indians lodged in Pakistani jails. Why they are not being talked about?," he said.
Reacting to Aggarwal's remarks, BJP spokesperson G V L Narasimha Rao said his comments were 'symptomatic of betrayal of national interest by the Congress-led UPA (United Progressive Alliance) over Pakistan'.
'They side with Pak, wine and dine with Pak leaders, abuse Indian Army chief, question surgical strikes, call Kulbhushan Jadhav a terrorist. Alas!' he said in a tweet.
Rao also wondered if Aggarwal was doing so as his Rajya Sabha term was expiring in a few months.
'Is he trying to become like-minded betrayers' coalition candidate in UP RS polls? OR is he desperately trying to challenge Mani Shankar Aiyar as 'Chief Anti-India propagandist' to host next secret dinner for Pakistan?' he asked.
Jadhav, who was arrested in March, was sentenced to death by a Pakistani military court for alleged spying, an accusation that India has dismissed as concocted.
On Tuesday, India had accused Pakistan of violating mutual understanding on Jadhav's meeting with his family, and said that the Indian national appeared coerced and under considerable stress during the tightly-controlled interaction.
VP says Pak restrictions on Jadhav family were 'inhuman'
Vice President M Venkaiah Naidu termed as 'inhuman' the restrictions imposed by Pakistan during Jadhav's meeting with his wife and mother, saying it has hurt the sentiments of Indians.
Referring to the restrictions, Naidu said the move to ask Jadhav's wife take off her 'mangal sutra' has not got down well with the people of India.
He was of the view that Pakistan 'did not do any good for itself' by its handling of the meeting while showcasing to the world its gesture, a statement issued by the Vice President's Secretariat said.
The Vice President said that while India seeks peace in the region for the benefit of all, some nations were 'adopting a different approach'.
'Harassment of Jadhav's mother, wife an insult to all Indians'
The Congress condemned Pakistan for harassing Jadhav's mother and wife, and said it was an 'insult' to all Indians.
The opposition party said the matter was 'important' enough to put an end to the impasse in the Rajya Sabha.
"We, as Indians, protest this strongly and condemn strongly this act of Pakistani government and we would like to discuss, show our displeasure tomorrow on the floor of the House. This was the single most important case, we did not want to continue the impasse," Leader of the Opposition in the Rajya Sabha Ghulam Nabi Azad told reporters outside Parliament.
He condemned Pakistan's action of forcing Jadhav's mother and wife change their clothes and remove bindi and mangal sutra, besides shoes.
"This is not just an insult to the mother and wife of Kulbhushan Jadhav but also an insult of India. This is an insult to 1.3 billion Indian people irrespective of religion and caste," he said.
Azad said the way Jadhav's wife and mother were harassed and treated by the Pakistani government, it is something which 'simply we should not tolerate as Indians'.
"We may be in the opposition but we are Indian first... Kulbhushan Jadhav is our fellow citizen. We will cooperate with the government...we would expect that he should get justice," Azad said.
The Congress leader said Pakistan had to succumb to international pressure to allow Jadhav's family members to meet him, but 'we did not expect that his family members -- mother and wife -- will be separated by glass wall'.
"We could never think of that they will not allow to meet, hug and talk to each other face to face. They were allowed to talk through intercom. What is difference between intercom and telephone? His family members were watching him over television for the last so many years," he said.
'A diplomatic failure of the Centre'
Senior Congress leader Veerappa Moily hit out at the government over the issue, accusing it of 'diplomatic failure'.
Union Minister Harsimrat Kaur Badal hit back at the Congress, saying she does not know to what level the opposition party can fall, if it could not come together on the issue of treatment of women by a 'terrorist' country which always worked towards harming India.
Moily told a television channel that the external affairs ministry should have ensured the right kind of arrangement or protocol for the meeting.
"It (the manner in which Jadhav's family was treated) is absolutely inhuman and violated all codes and ethics of protocol," he said.
Moily also said that the external affairs ministry should have spoken with its Pakistani counterpart or Prime Minister Narendra Modi should have taken up the matter with the Pakistani premier.
"This was a total diplomatic failure," Moily said.
Badal slammed Congress's reaction as 'very shameful and extremely sad'.
She criticised Pakistan for the treatment meted out to Jadhav's family, saying the neighbouring country stands exposed in front of the entire world.
Pakistan cannot make India 'weaker' by doing such things, she told a TV channel.
"In fact, our resolve of giving (it) back to them is being strengthened," she said, adding that other nations were also alligning with India against such treatment.
IMAGE: Kulbhushan Jadhav meets his mother and wife, Avanti and Chetankul, at the ministry of foreign affairs in Islambad. Photograph courtesy: Pakistan foreign office.