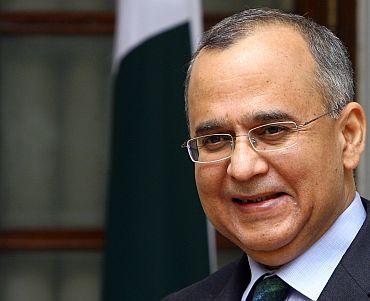 Strongly pitching for resumption of suspended Indo-Pak dialogue process, Pakistan on Thursday said the two countries should not "remain prisoners of the past or the present" and once they move forward all other things, including movement in trade ties, will fall in place.
This comes in the backdrop of India making it very clear that any moving forward in bilateral engagement with Pakistan will depend on peace and tranquillity on the LoC. The third round of comprehensive Indo-Pak dialogue process was stalled earlier this year after the beheading of two Indian soldiers by the Pakistan army along the Line of Control.
India has also raised its concerns over the series of ceasefire violations by Pakistan army not only along the LoC but also along the IB and the loss of lives of BSF personnel in the past few months during a meeting between Prime Minister Manmohan Singh and his Pakistani counterpart Nawaz Sahrif in New York in September.
"We need to move forward across the board by resuming the suspended process of dialogue and once that happens, then everything is going to fall in place," High Commissioner of Pakistan to India Salman Bashir said on the sidelines of a ecture on Indo-Pak trade relations, organised by the ICRIER.
Bashir added there are good things that have been worked in the past, there are good things that are on the table and the countries can move them forward once they enter into a dialogue mode.
One of the reasons why the Indo-Pak trade process has been delayed is because it is an important component of the dialogue process, which has been stalled, the Pakistan envoy said adding, "...I think it is important that we get to a point where we are able to resume the dialogue process between the two countries."
Stating that Pakistan remains committed to trade normalisation with India, Bashir said "I think there is no question about it, there are things that come in the way, I think we are determined to do everything possible to remove those difficulties...we must not remain prisoners of the past or the present," he added.
He said for Pakistan, the main priority now is to catch up on the developmental track.
"For Pakistan, the priority requirement of the nation is to catch up on the developmental track, we realised that is not possible unless we have the requisite conditions both at home and especially in the neighbourhood," he added.
Image: Pakistan High Commissioner to India Salman Bashir
Photograph: Reuters