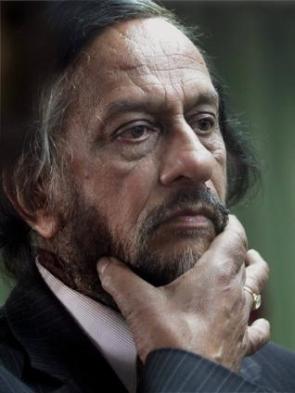 Buffeted by allegations of sexual harassment, R K Pachauri on Tuesday quit as chairman of United Nation's prestigious Intergovernmental Panel on Climate Change, whose meeting here he has avoided.
Without citing any reason, including the fact that he is facing a complaint from a woman staffer filed with the police, Pachauri wrote to UN Secretary General Ban Ki-moon that he has decided to step down from the chair of IPCC, which he has headed for 13 years, "some months" before completion of the term.
"The IPCC needs strong leadership and dedication of time and full attention by the chair in the immediate future, which under the current circumstances I may be unable to provide, as shown by my inability to travel to Nairobi to chair the plenary session of the panel this week.
"I have, therefore, taken the decision to step down from my position as chair of the IPCC some months before completion of my term, and with effect from February 24, 2015," he said in the letter to Ban.
Seventy-four-year-old Pachauri, who shared the Nobel Peace Prize in 2007 with former US vice president Al Gore for work on climate issues, heads TERI, where a woman employee has filed a complaint with the police levelling allegations of sexual harassment.
Pachauri's decision to resign was made public by the IPCC at its ongoing three-day 41st session from Tuesday.
Granted interim protection from arrest till February 26 by a Delhi court on Monday, Pachauri claimed in his letter to Ban that he wanted to end his spell as chairman, IPCC on November 2 last year in Copenhagen but close friends and colleagues advised him against that and wanted him to continue with outreach efforts worldwide.
Last week, Pachauri had expressed his inability to go to Nairobi to chair the IPCC plenary session after the Delhi police registered a case of molestation and sexual harassment against him. "The bureau of the Intergovernmental Panel on Climate Change agreed on Tuesday, in accordance with its procedures, to designate Vice-Chair Ismail El Gizouli as acting IPCC chair," the IPCC said in a press release. "The designation of Gizouli follows the decision by Rajendra K Pachauri to step down as chairman of the IPCC effective today," it said.
"The actions taken today will ensure that the IPCC's mission to assess climate change continues without interruption," said Achim Steiner, executive director of the United Nations Environment Programme, who facilitated the bureau meeting. "We look forward to a productive session in Nairobi this week," Steiner said.
Elections for a new bureau, including the IPCC chair, for the next assessment cycle are already scheduled at the 42nd session of the IPCC in October 2015, the release said.
Pachauri was elected to the first of two terms as chair of the IPCC in April 2002 and had been scheduled to complete his second term in October.
Pachauri said that during his 13-year-long term as IPCC chief, he had the good fortune of supervising the production of the fourth and fifth assessment reports, several impactful special reports and other valuable outputs.
"Throughout this period I have endeavoured to uphold and enhance the scientific credibility of the panel, its escalating policy relevance and the robustness of its work," he said in his letter to Ban. "I have found it a source of unprecedented and deep satisfaction to lead the IPCC during some very difficult times and in the face of grave challenges," he said.
Pachauri said he would continue with his outreach efforts in whatever capacity. "For me the protection of Planet Earth, the survival of all species and sustainability of our ecosystems is more than a mission. It is my religion and my dharma," he said. "I would be available for help, support and advice to the entire IPCC in its future work in whatever manner I may be called on to provide," he said while thanking the UN chief for his invaluable support, encouragement and inspiration.
The IPCC is a scientific body under the auspices of the UN. It reviews and assesses the most recent scientific, technical and socio-economic information produced worldwide relevant to the understanding of climate change.