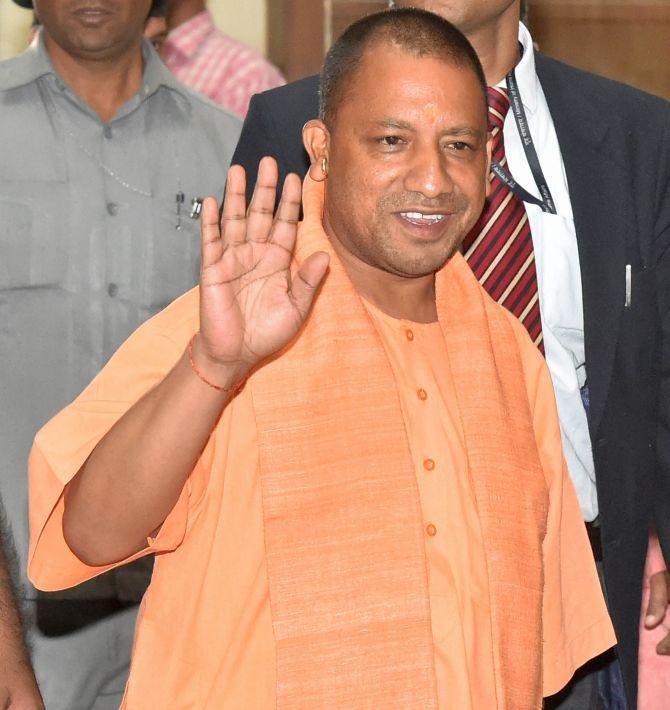 The Gorakhpur and Phulpur Lok Sabha by-election results were a "lesson", Uttar Pradesh Chief Minister Yogi Adityanath said on Wednesday, citing over-confidence and the inability to comprehend the understanding between the Samajwadi Party and the Bahujan Samaj Party as prime reasons for the Bharatiya Janata Party's defeat.
The fact that the BJP lost both the seats -- Gorakhpur was vacated by Adityanath and Phulpur by his deputy Keshav Prasad Maurya -- was a reason for review, the chief minister added.
"When the candidates were declared, the SP, BSP and Congress were not together... they had not joined hands then. But suddenly in the middle of the election, the SP and the BSP forged an electoral understanding," he told the media from his residence.
"The over-confidence and inability to comprehend the electoral understanding between the SP and the BSP led to the defeat," Adityanath stressed.
Political bargaining has started in the state and people of the state will understand it, he said.
The chief minister, who has represented Gorakhpur in the Lok Sabha five times, said local issues led to the party's poor performance in by-elections, not the policies of the Centre.
He noted that local issues dominated and voter turnout was also low.
"When the general elections are held, there will be national issues. Under the leadership of PM Narendra Modi, there has been a sense of confidence which is prevailing in the country...but all these will be reviewed."
The election results, he stressed, were a lesson.